Photos and info of Italian clubs from A - Z.
Photos and info of Italian clubs from A - Z.
No Italian clubs start with the letter H, but we have a few starting with G and I.
Gela:
City in Sicily. Since '96 they played mostly in 4th level but two years ago club failed and restarted from last division, now they play in the 8th league.
Historic group are Indians born in '91.
Friendship with Giugliano.
Local derby against Nissa (from Caltanissetta).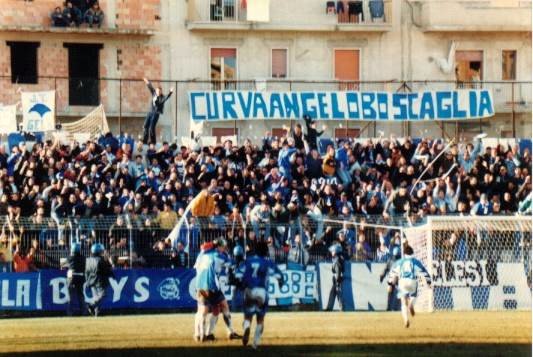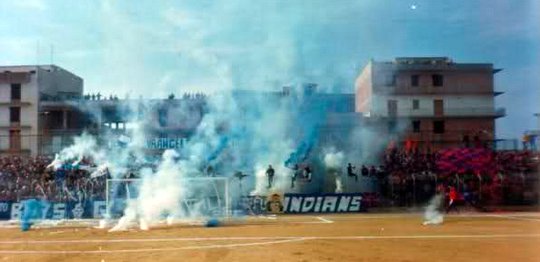 Genoa:
The oldest Italian football club. 9 times Champions and also won one cup.
Only two times in UEFA cup, 91/92 and 2009/10 and many years in Serie B before 2007.
Historic group, Fossa dei Grifoni born in '73 and stopped activity 20 years later.
Friendship with Napoli and Ancona.
Derby against Sampdoria but biggest enemies are Milan, Verona, Juventus, Roma, Atalanta, Fiorentina, Cagliari, Inter and many more...
Actually there are about 250 banned lads.


Old stand: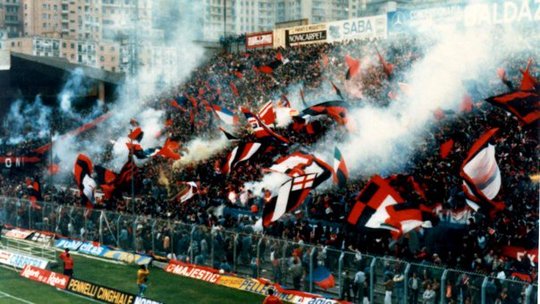 New Stand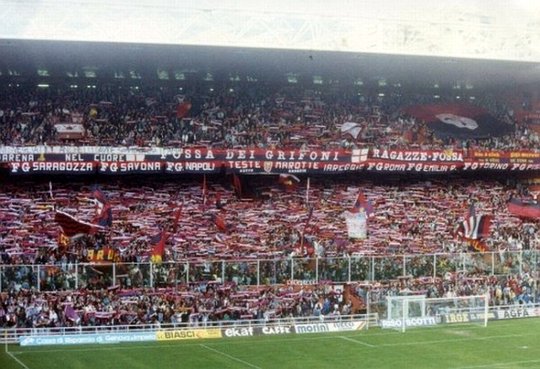 Giarre:
Small town near Catania. Their best football moment was between '89 and '94 when they played in 3rd level, now after many bad years they play in 7th division.
One of the most important Group, Kaotici born in '92.
Friendship with Sorrento and Paterno'.
Local derbies against Siracusa, Acireale and Licata.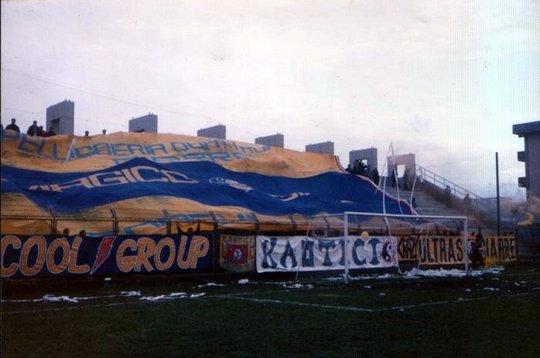 Giarre -  Palermo 87/88
Giugliano:
City near Naples. Small club that played at their best in 4th division between '98 and 2007, now they are in 6th level.
Friendship with Gela.
Local derbies against Puteolana (from Pozzuoli) and Cavese.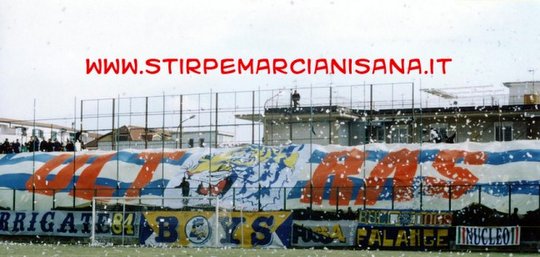 Giulianova:
Small city in Abruzzo. They played since the 70's in 3rd or 4th level but last years they got problems and now play in 5th division.
First ultras Group born in '79 was Collettivo.
Local derby against Teramo, but also with Chieti and Lanciano there is rivalry.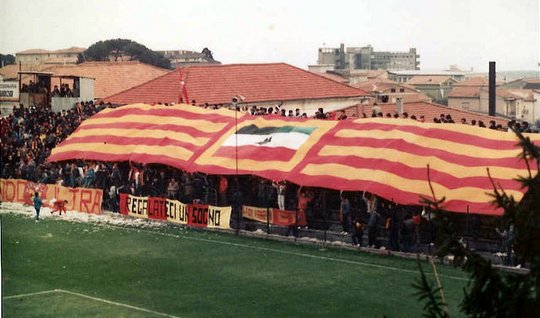 Monopoli - Giulianova 89/90
Gualdo:
Very small town near Perugia. They became famous in the 90's when they almost reached the Serie B, now club is playing in 5th level.
Friendship with Avezzano.
Local derby against Gubbio.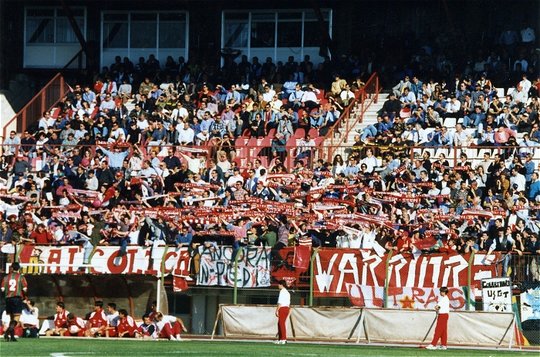 Imperia:
Small city near the border with France. Small club that played in 4th level only between '78 and '85. Now they are playing in 6th division.
Historic Group is Samurai Ultras, born in '82, a very original name.
Friendship with Nice, Savona and Derthona.
Local derby against Sanremese.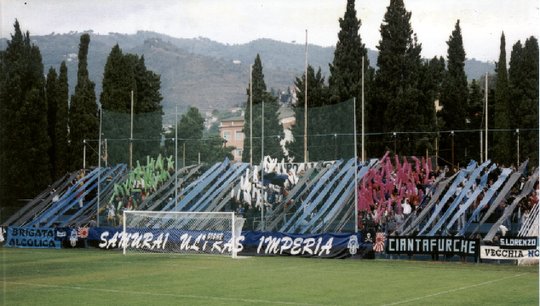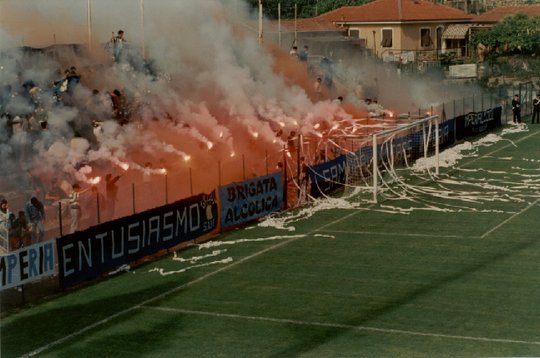 Inter:
One of the most famous and winner club in Italy. They has never been relegated.
Between '89 and 2006 they was the best Italian losers, winning 3 UEFA cups but not a title.
Many historic groups are still alive, first was Boys born in '70, than "Ultras" born in 75 (as Forever Ultras), Viking in '84 and Irriducibili in '88. Another very famous group was Skins, one of the most feared in the 80's.
Friendship with Lazio, Valencia ("Boys" mostly), Varese (for Irriducibili).
Biggest rivals are Juventus, Milan, Napoli, Roma, Atalanta etc.
Right-wing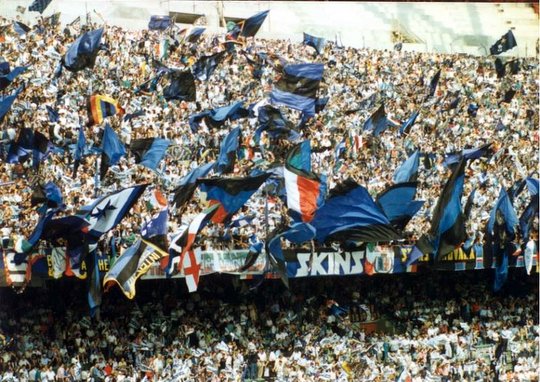 Ischia:
Is an island near Naples, club played between 1983 an '98 in 3rd and 4th division, after that they failed and played in 6th or 5th division until last year when they came back in 4th division, the last pro-League in Italy.
Historic group Yellow Blue Lions was born in '83 and is still active.
Friendship with Perugia.
Local rivals are Turris, Savoia and Casertana mostly.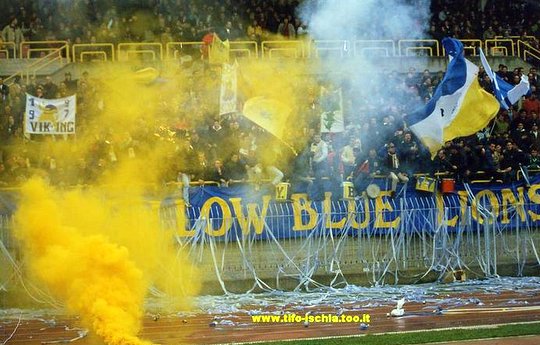 Isernia:
Small city from the smallest Italian region Molise. Last time in 4th level was the 2003/04 season, after only local leagues and now in 5th division.
Main Group Cherokee born in '94.
Friendship with Manfredonia.
Local derbies against Campobasso, Termoli and Venafro.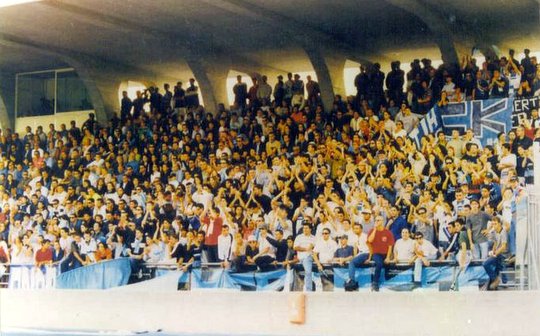 Click here for clubs starting with: A, B, C, D, E, F,
Best way to ask questions is in this topic (Click here)