Photos and info of Italian clubs from A - Z.
Photos and info of Italian clubs from A - Z.
We continue with our historic review of Italian clubs. This time clubs stating with D, E and F.
Derthon:
From Tortona, city in North Italy. In the 80' always in pro leagues, now they are playing in 5th level or lower since '91.
Main Group is Lions Supporters.
Friendship with Savona.
Local derby against Casale, Alessandria and Voghera.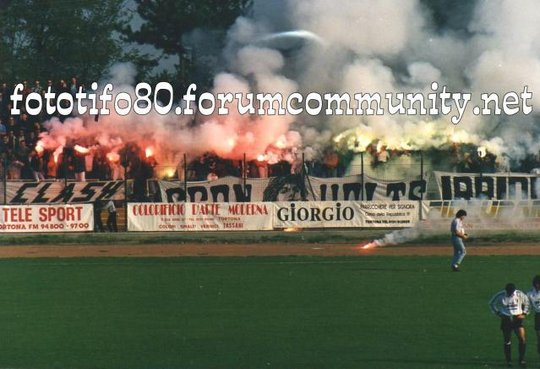 Ebolitana:
Small town near Salerno, also small club, now in 7th division.
In 2004 an ultras capo became president of the club.
Historic Group was Nuclei Sconvolti, born in '84.
Friendship with Savoia and Cerignola.
Local derby against Battipagliese, other enemies are Turris and Cosenza.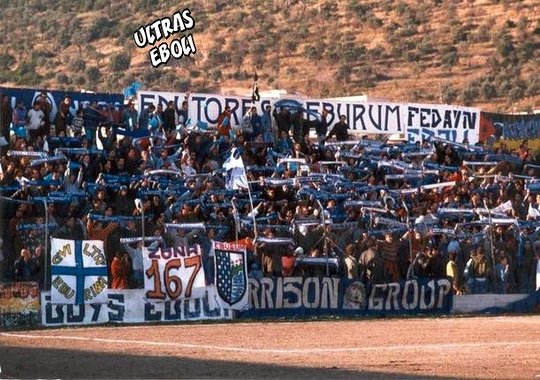 Empoli:
Little city near Florence, they played 9 seasons in Serie A, last time in 2007/08, since then in Serie B.
Historic Group were Rangers born in '76 and finished activity last year because of Tessera (Fan card). Other group is Desperados born in '83, still active (they accepted Tessera).
Friendship with Parma, Perugia and Montevarchi.
Local derbies against Fiorentina, Pistoiese, Siena, Lucchese, Pisa etc.
Left-wing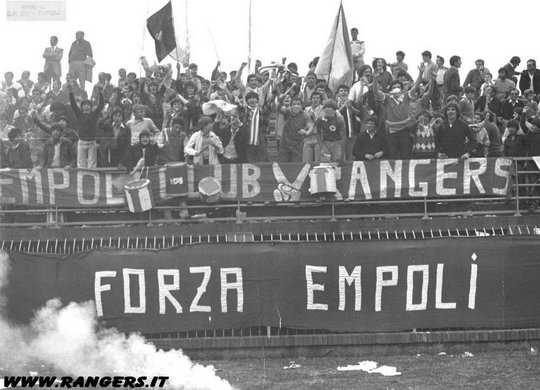 Season 78/79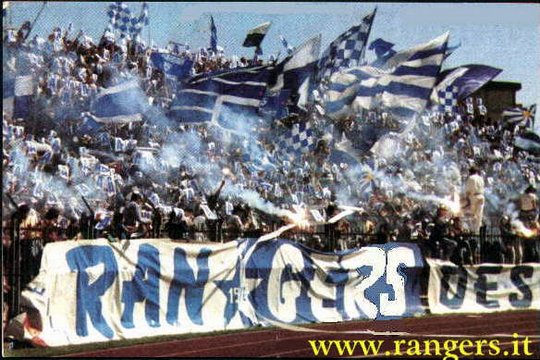 Empoli - Avellino 86/87
Fano:
City in Marche region, this club played in 3rd and 4th levels almost all the 80's and 90's, now they are in 5th division.
Historic Group is Panthers, born in '77 and still present.
Friendship with Jesina and Ternana, also with Ravenna recently.
Local derby against Vis Pesaro.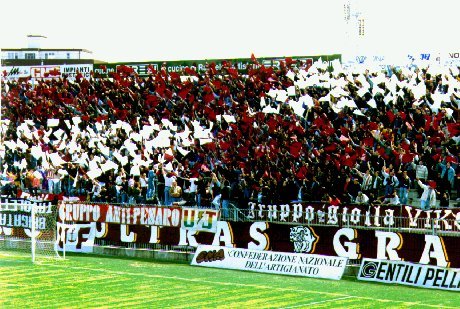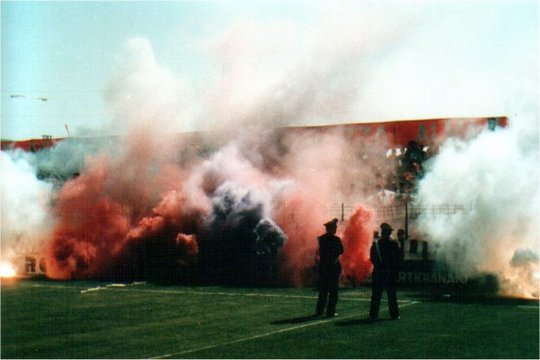 Fano - Vis Pesaro 87/88
Fasano:
Small city in South of Italy. At their best they played in 4th level for nine times in the 90's. Now after a failure they play in 8th level, but ultras still follow the club!
Historic Group Allentati born in '88.
Friendship with Manfredonia and Campobasso.
Bigger enemies are Brindisi, Martina and Taranto.
Left-wing (Allentati Group) there are also another apolitical Group in another stand.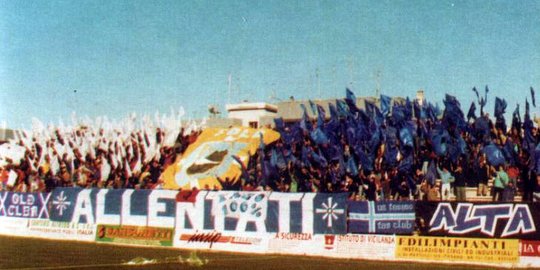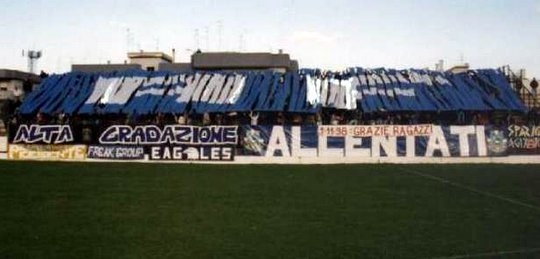 Fermana:
Another small city from Marche region. In 99/00 they played in Serie B, now after a failure and many years in local leagues they are back in 5th division.
Historic Group is Brigate, born in '74 and sill active.
Friendship with Avezzano and unofficial with Pescara.
They have many local rivals such as Ascoli, Ancona, Sambenedettese, Vis Pesaro etc.

Fiorentina:
From Florence, one of the most important Italian ultras.
The club won two titles and 6 times the Italian cup. Also one "Cup winner's cup".
In 2002 Fiorentina got problems and had to restart in 4th level. They jumped to Serie B for federal decision, and in 2004 they were back in Serie A.
First Group named "Ultras" born in '73, and lead the stand until the 1983. Than CAV (Collettivo Autonomo Viola) became the main group, they ended activity in 2011.
Friendship with Torino, Verona, Catanzaro and recently with Sporting Lisboa.
Biggest enemy are Juventus, Roma, Bologna, Napoli, Pisa, Genoa etc.
Apolitical stand.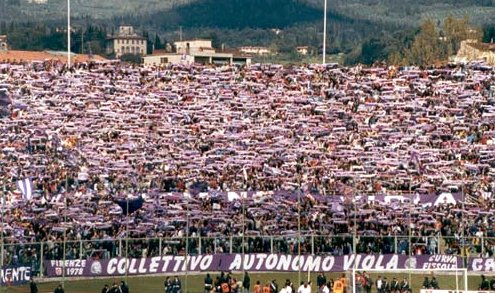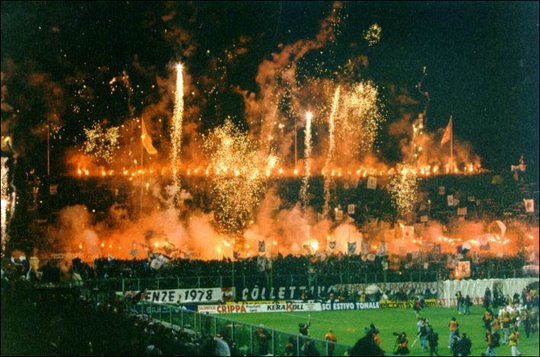 Fiorenzuol:
Small town near Piacenza, the best period of this club was in the 90's when they played in 3rd and 4th division. Now they are in 6th level.
Historic Group Ultra' Fiore born in '84, and after changed name to Rusty Nails buh ended activity after few years.
Local enemy is Fidenza.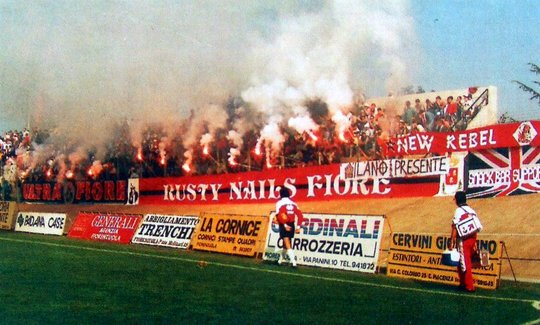 Foggia:
City in South of  Italy. Club became very famous in the 90's when they played 4 season in Serie A, since '98 they played in 3rd and 4th levels.
Historic group Regime Rossonero was born in 1980.
Now they have two different ultras sectors, since some groups moved to the North stand.
Last year they finished the strong friendship with Cagliari, still good relation with Latina and Monza.
Local derby against Bari and huge hate for Napoli, Taranto, Pescara etc.
Right-wing (at least the North stand)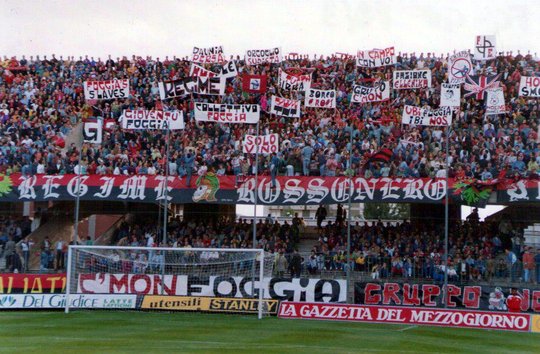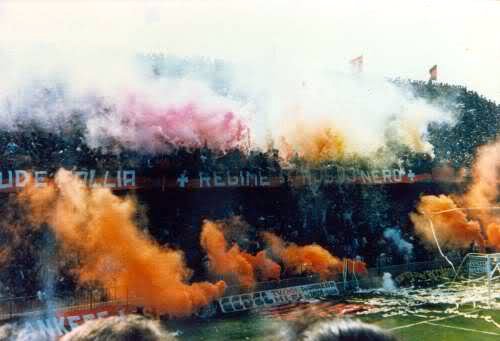 Formia:
Small port between Rome and Naples, club played last time in pro-League in 94/95, now is playing in 6th level of Italian football.
Historic group "Ultras" born in '85.
Local derbies against Gaeta, Latina, Cassino and Sora.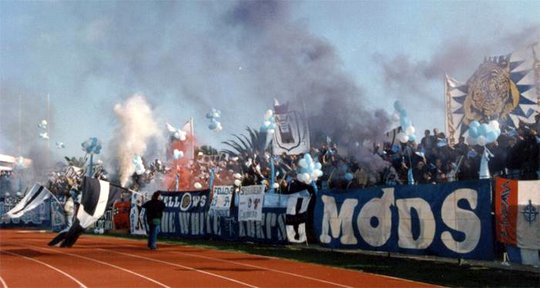 Frosinone:
City in Lazio region. In 2006/07 club came in Serie B for the first time, now they are in 3rd level.
Historic groups were Heroes Korps born in '79 and Uber Alles born in '89.
Friendship with Paganese and good relation with Messina.
Local derby against Latina, other rivals are Reggina, Perugia, Foggia etc.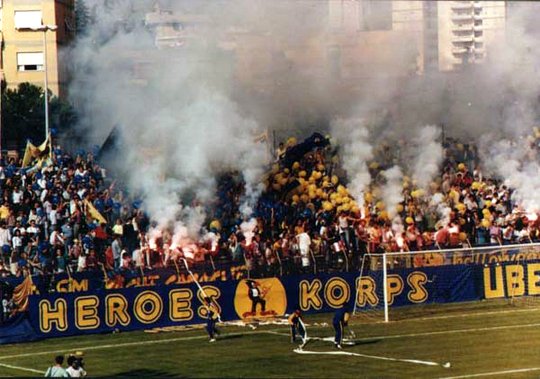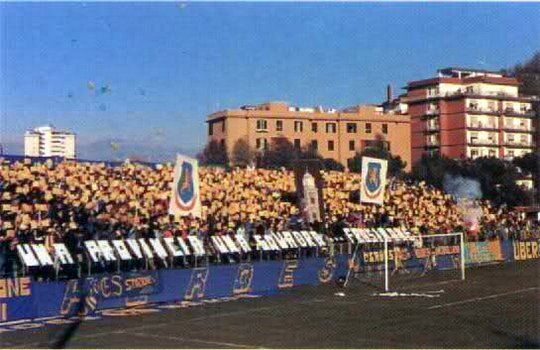 Frosinone - Latina 87/88
Click here for clubs starting with: A, B, C,

Best way to ask questions is in this topic (Click here)