Collection of strange stuff thrown on the football pitch!
1. Pig head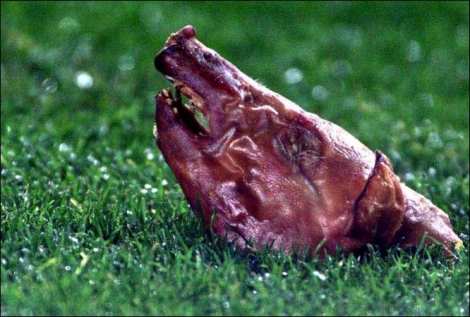 In 2000 Luis Figo left Barcelona to play for Real Madrid. In 2002 fans of Barcelona started to throw coins, a bottle of Jim Beam and a pig head towards Figo, causing the players to be taken off the pitch for 13 minutes for their own safety...
2. Scooter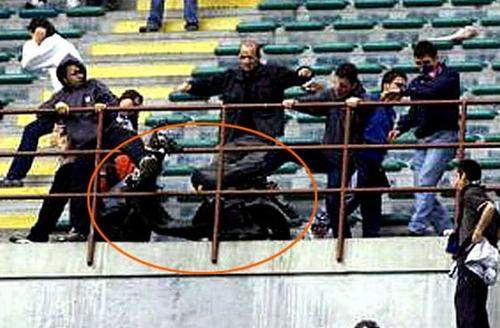 Inter - Atalanta: Inter fans stole a scooter from an Atalanta fan before the match. They got it in at San Sire, and after failing to light it on fire they threw the scooter into an empty section at the lower deck with the intention of the scooter reaching the pitch.
3. Rabbit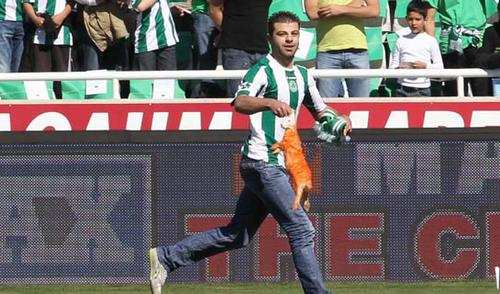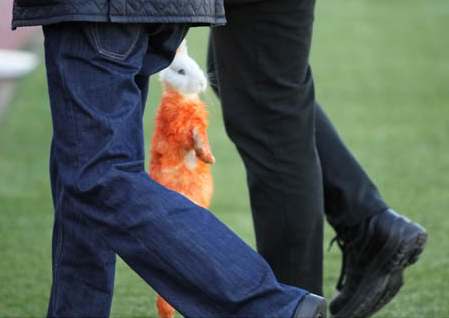 Cyprus, Apoel VS Omonia Nicosia. Omonia fans nicknamed Apoel fans "the orange rabbits"...
4. Dildos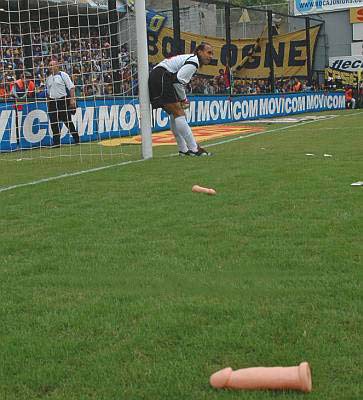 From Argentina. Unsure story behind this dildo party...
5. Pig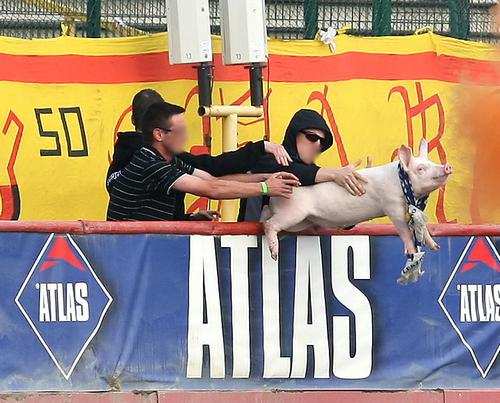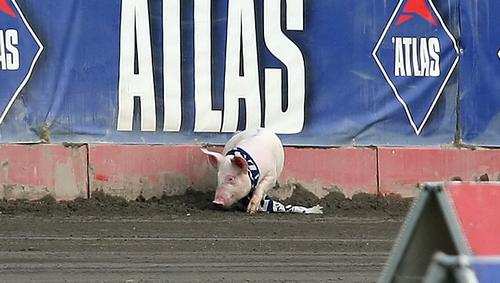 Supporters during Speedway in Poland placed a pig at the track. (Some supporters in Poland follow speedway and football, sometimes you can see massive tifo-shows and great support, just like an football match).
6. Bottle of whiskey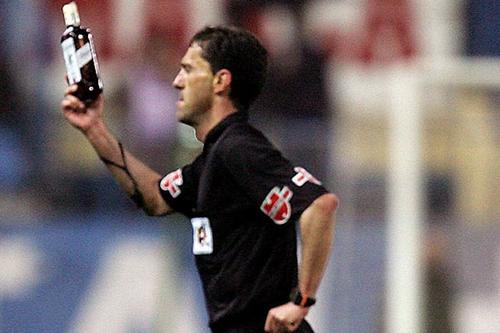 Atletico Madrid - Sevilla in 2006. Hope the bottle was empty!
7. Donuts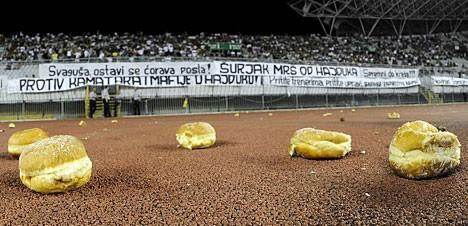 Hajduk Split fans protesting against their club president by throwing donuts on a pitch. Presidents is also owner of a bakery in Split.
8. Beachballs
Celtic - Rangers
9. Tennis balls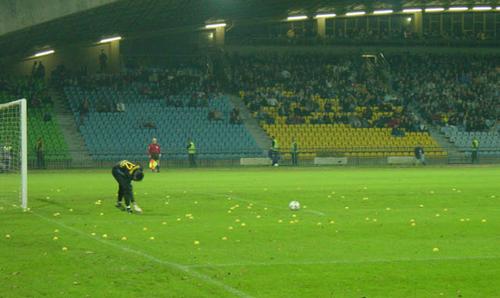 Fans in Slovenia throwing tennis balls on to the pitch.
10. Carrots
Iraklis - Panathinaikos
11. Seats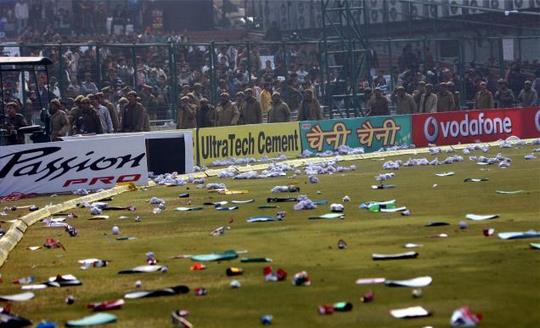 Seats thrown throw seats after the match between India and Sri Lanka (Cricket!). Supporters was abandoned due to bad pitch conditions at the Feroz Shah Kotla stadium, in New Delhi.
12. Plastic cups
Galatasaray - Fenerbache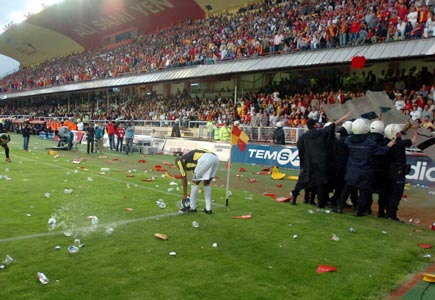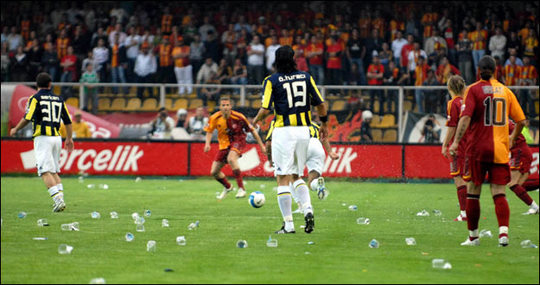 13. Perfume
Unknown story here, but we hope he enjoy his new perfume...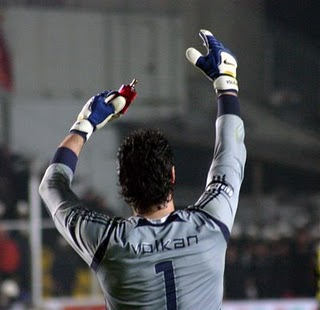 14. PAOK - Olympiakos (everything!)

15. Billiard ball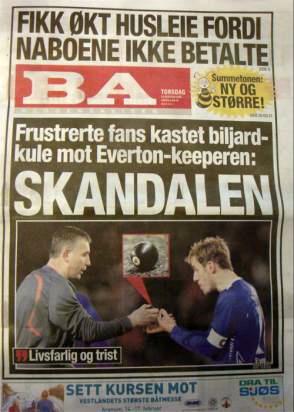 Brann supporters (Norway) throw a billiard ball on to the pitch against Everton in 2008.
Same supporters managed to hit a player from Rosenborg with a egg right after he scored. The egg was thrown from one of the upper rows at the stadium!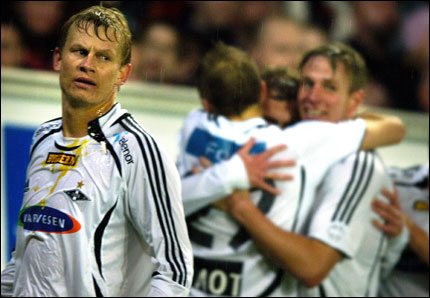 16. Bottle of Kebab-sauce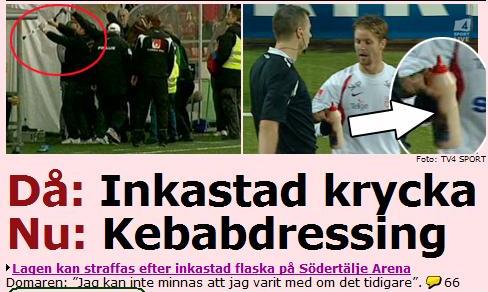 Assyriska - Djurgården (Sweden). Supporters of Djurgården throw a bottle of Kebab-sauce against players from Assyriska. Assyriska is a club with mostly Turkish supporters, in Sweden.
17. Iron rod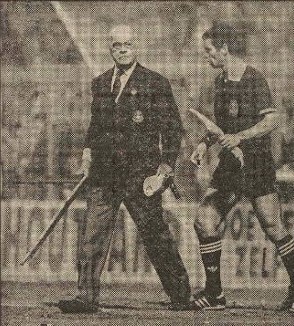 Ajax-Austria Wien ( 1989). Ajax fan throws iron rod on the keeper of Austria, Ajax gets disqualified for Europacup for a year.
18. Figueirense (Brazil), unknown story behind this photo.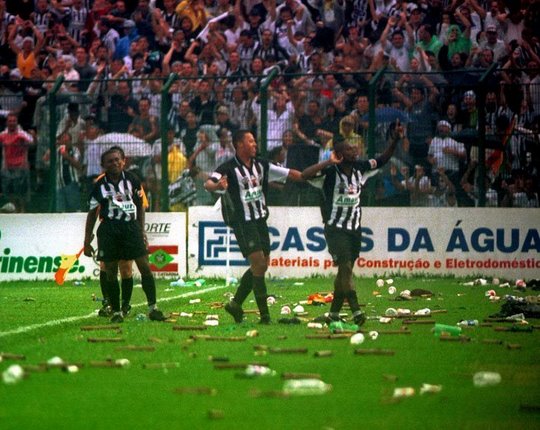 19. Shoes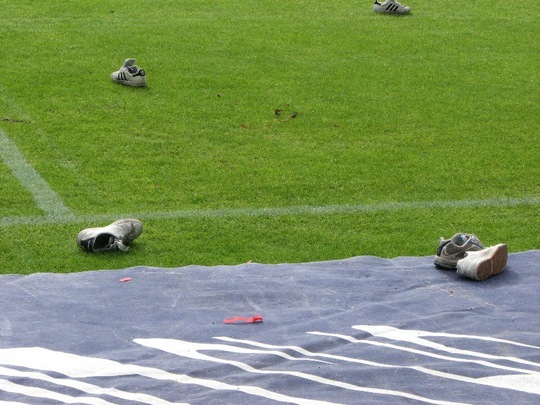 Brøndby supporters (Denmark) throw for some reason shoes on to the pitch during a match in 2008.
20. Tennis balls again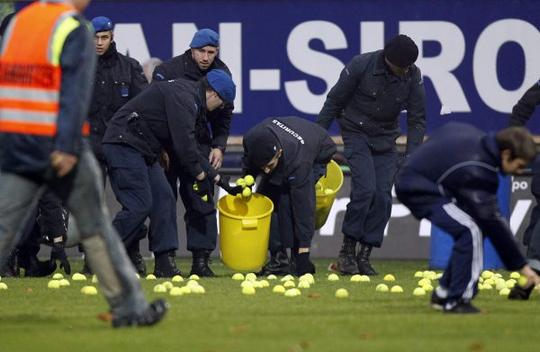 Swiss Television moved the match Basel - Luzern because they wanted to show a tennis match live. Supporters of Basel started the match with throwing tennis balls on to the pitch to show that they decide when kick off should be.
23. Tennis balls and a chicken!
Porto - Benfica
24. Light sticks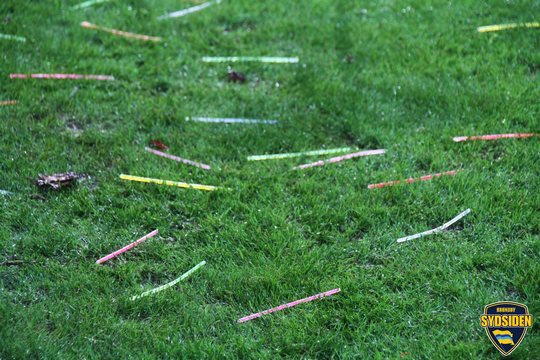 Denmark: Brondby fans thrown light sticks on the pitch during the derby with Copenhagen as a protest that match was moved from Copenhagen due to rave party.