News: Bad Blue Boys about situation in Athens
After the riots in the Arena between Dinamo and AEK fans, in which one AEK fan lost his life, the Bad Blue Boys have officially spoken out as well.
We are sharing their statement in it's entirety (translated from Croatian with chatbot):
"We are forced to speak out following an unprecedented lynching of the Bad Blue Boys in Athens, instigated by Greek media and their public. Unfortunately, a significant portion of the Croatian public and media is also involved in all of this.
The incredible ease with which Croatian media accept the notion that our members are being held responsible for the tragedy that occurred, without any evidence to support it, is astonishing. There cannot and will not be any evidence, as time will soon reveal. There is only the so-called "investigation" by a compromised Greek police force, whose sole aim is to later stage a scenario that attributes the shameful act of knife use in a fan conflict to Croats, in order to satisfy the bloodthirsty public, media, and politics.
Meanwhile, seven of our brethren in Athens have suffered injuries from the use of knives. Three were wounded by fired signal flares, and one member of our group sustained a staggering seven (7!) stab wounds. Is there anyone in Croatia for whom these facts disrupt the narrative that the Bad Blue Boys are responsible for the gravest accusations laid upon them?
We appeal to all media and the entire Croatian public: Stop this lynching directed at a hundred Croatian citizens and do not participate in it! Do not destroy and do not play with the lives of young people for the sake of sensationalism!"
Original message from BBB official Telegram channel: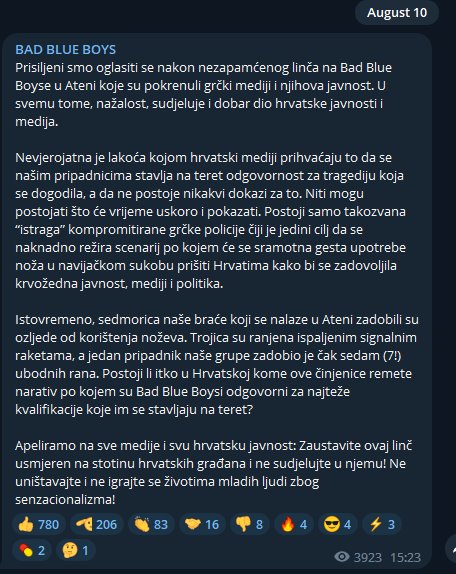 Read also:
>> Police arrested main suspect for murder of AEK fan, it's not Croat
>> Bad Blue Boys 'like soldiers' in court 09.08.2023
>> Dinamo fans taken for DNA testing, latest information from Athens