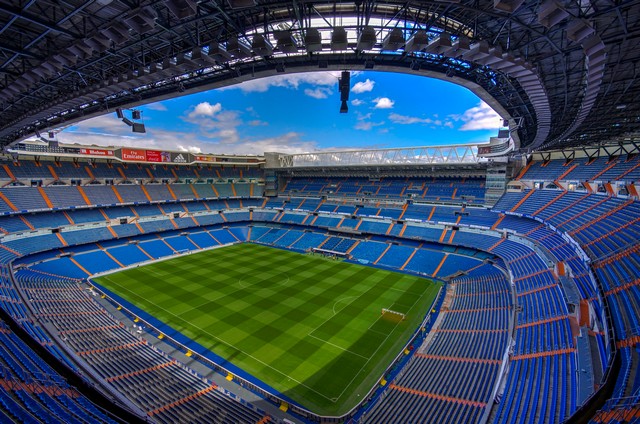 After 18 months away, Real Madrid returns home to Santiago Bernabéu Stadium. This news brings a strangely nostalgic feeling to the team's fans. They were still able to support Real Madrid and attend games, but let's not pretend that the homestadium doesn't make a difference.
The venue hosted its last match before the lockdowns, on March 1, 2020. It was an epic match between Real Madrid and Barcelona, which resulted with a big win for Zidane's team.
Real Madrid's administration played it smart. Since the pandemic kept fans away from stadiums, the problem was seen as an opportunity to speed up the renovations. In the meantime, the team replaced its home for the humble Alfredo Di Stėfano Stadium.
The New Beginnings in the Improved Santiago Bernabéu
On September 12, Real Madrid welcomed Celta Vigo for a match in the Spanish League. The euphoric sense of its true home led the team to a massive win of 5-2. Things didn't start well for the host, but thanks to Benzema's hat-trick, Real Madrid made a happy return.
The newly refurbished arena looked glamorous and modern with its abstract structure. Inside, fans were able to enjoy new meeting areas for drinks and food. The stadium's roof is where the pre-game fun is. It features stunning visual effects and light shows.
When the team's administration announced the big project, fans were expecting to see a final result that beats the Blaugrana. No; Bernabéu is still smaller. It holds the same number of seats as before. But there's a big difference: the redeveloped venue is more modern, safer, and more fun for spectators. This is a €575 million renovation. The stadium may remain with the same spectator capacity, but we'll definitely see many improvements in the final result.
It sounds like a big expense, but the revamp is planned to generate new income. It's supposed to allow the club to maintain its economic leadership (yes; we're talking about mega-expensive transfers). The design features a titanium facade, a retractable roof, and a 360-degree scoreboard.
Real Madrid's megastore was already a big hit, but it's getting expanded. Bars and restaurants are included in the project, and they are supposed to generate more revenue for the club. In addition, a VR-technology interactive museum will make people's visits on a non-match day more fun.
During the first matches, the stadium will hold only a few thousand people. Governmental authorities only allow venues to fill 60% of the capacity, but that's not the only reason for the restriction. The renovation project is still on-going, so the venue will be working with a largely reduced capacity for quite some time. This so-called "digital stadium of the future" is supposed to be completely finished by 2023.
Real Madrid recently published a video of the demolition of La Esquina shopping centre and underground car park. You can follow the construction project's progress on the club's official website (check the News section).
Now that matches are starting to get back on schedule, it's more important than ever for fans to respect the imposed safety standards. Pre-game roof parties, light shows and meeting areas sound impressive, but we're yet to see these features of the venue functioning in their full glory.
The Controversy: What's the Deal with the Casino Rumors?
As soon as the reconstruction process began, rumors about Real Madrid building a casino in the stadium's corner were triggered in online forums. Some said it was ridiculous. Others believed it was the logical thing to do, especially since the club started the renovation with the intention to make money from the new venue's features. Gambling has always been closely related to sports games. Sports bets boost the spectator's adrenaline, and live betting on site makes the gaming experience much more fun.
As it turns out, the club is not bringing a gambling venue anytime soon. La Liga recently imposed a ban on all betting sponsors, so a full-featured casino wouldn't be a smart move for any club at this point. Fans who like to gamble can easily access online casinos. There aren't any restrictions as to what websites you can or cannot access while you're on Bernabéu. Gamblers are moving to online gambling anyway, as they get better casino bonuses, more convenience, and an improved user experience that way. We won't miss the on-site casino that much.
The world of soccer is going through an awakening regarding the controversial matter of gambling. Gambling sponsorship has been fueling the sport for a long time, but this love affair has been brought to an abrupt end. Spain's new Gambling Ad Restrictions act prohibits sports teams from accepting and feature any gambling firm's sponsorship on their uniforms and equipment, in their stadiums, or any other aspect.
To gamblers, this doesn't cause huge issues. They can still place bets and play games online and in casino/betting venues. To sports clubs, however, the lack of resourceful sponsorship may cause serious economic damage.
Right after the announcement of these changes, the European Gaming and Betting Association advised Spanish authorities to reconsider this decision, as controlled advertising provides gamblers with information on secure and controlled gambling environments.
How Will the New Venue Work in the New Normal?
Real Madrid still hasn't disclosed the exact number of tickets that will be on sale for the upcoming matches. There's a downloadable document on the site, called Access Regulations Santiago Bernabéu Stadium (also available in Spanish).
Spain allowed spectators back to matches in May 2021. According to minister Uribes' announcement, they may fill 60% of the full capacity at most. The clubs are driven by these restrictions. In addition, they impose a new code of conduct, which requires wearing masks and maintaining physical distance.