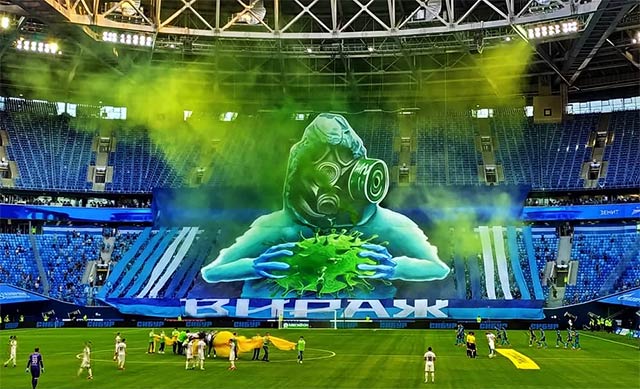 The 2019-20 football season was progressing smoothly throughout Europe until Mid-March when news emerged Olympiakos owner Evangelos Marinakis had tested positive for COVID-19. Worse, he came into contact with several Arsenal players, including Manager Mikel Arteta, who later tested positive for the virus.
Within a couple of weeks, the Premier League suspended its games. La Liga followed and so did Bundesliga, Serie A, Ligue One and the Scottish League. For many fans, the suspension of football was gut-wrenching.
Thousands of fans attend every match their favorite team plays. Some people make a living through football and so the postponement of games meant a loss of income. Nonetheless, football fans have been interacting with their clubs in unique ways since the pandemic started. Below are some of them:
Cooperating with Safety Guidelines
Loads of football fans would have wanted to support their favorite teams by attending every match played in 2020. However, football teams around the world united in urging their fans to stay at home in accordance to government mandates.
In many cases, the request was simple. Stay home to save lives. Some people had permits to travel around due to the nature of their jobs. But for the majority of football fans, the best thing they could do for their clubs was to stay at home.
At some point in 2020, some clubs in Europe began to welcome fans back to the stadiums. However, these clubs had strict mask and social distance mandates. Although some fans initially objected to these rules, most fans agreed with the rules.
They agreed to regular tests and quarantine measures if they tested positive. They agreed to wear their masks and to minimize movements to curtail the spread of COVID-19. In other words, fans did everything they were told to help football return to normality sooner rather than later.
Forming Tifos Outside of the Stadiums
COVID-19 restrictions might have prevented football fans from getting inside stadiums. But guess what? This didn't stop them from showing support to their favorite clubs. Some fans organized and formed tifos every time their favorite team had a game.
Take AC Milan as an example. When lockdown restrictions were eased in Italy, Milan fans showed outside of the San Siro to form their famous II Diavolo (the devil) display. Dortmund fans, by comparison, displayed the Yellow Wall in front of the Westfalenstadion before they were finally allowed to return to the stadium in small groups.
Tifos had such a great huge impact in the world of football last year that FIFA introduced tifos in the Ultimate Team Mode.
Buying Tickets During Lockdowns
Many football clubs in the UK suffered heavy financial losses last year. Some teams even went into receivership despite eased lockdown measures later in the season. Fortunately, some teams received financial cushion from fans who made donations or purchased seasonal tickets even if they couldn't attend games.
The hardest hard team were lower league teams, which depend on ticket sales as a primary source of revenue. Premier League clubs might have lost €1.6 billion in 2020. But they don't rely on ticket sales as much as lower league clubs.
Instead, they generate millions of pounds from broadcasting rights and sponsorships. Betting firms, and you can check this football bookmaker comparison and review guide to learn more about the brands, lead in EPL sponsorship deals.
That said, the average EPL team generates 14% of its income from ticket sales. In the Championship, 21% of a team's gross income is generated during match days. With teams like Bolton Wanderers, the revenue share is 46%.
Supporting Teams During Training Sessions
Before fans were allowed back to the stadiums, they had been supported footballers in a unique way. Some fans usually cheered their clubs' players outside of training grounds for hours.
Fans make a tremendous impact in the success of a team. And during a challenging time like last year, getting closer to their football heroes was an inspiration for working hard amid all the problems they were facing.
Social Media Interactions
Visit any football club's Facebook or Instagram page and there's a chance it has a huge following. Football clubs have been slowly embracing social media in the last decade. And last year, it proved to be an indispensable tool for interacting with fans.
Football fans interact with fans through unique and often light hearted ways. For starters, some teams share memes. They share memes to encourage comments and likes from fans.
Sometimes the teams hold live streams featuring star players. Or they share popular memories in the clubs' histories. In many cases, fans are eager to talk about these great moments in the history of their teams.
Another way clubs interact with fans is by providing regular updates about players, managers and games. They announce lineups on Facebook. Next, they share a message from the boss. And once a game starts, they update every goal scored and conceded.
Participating in Charity Events
The New York Times covered a story last year showcasing how football teams in England were rallying to help the most vulnerable people in the community. The newspaper cited Exeter City, Portsmouth, West Brom, Watford and Bristol Rovers as some of the first clubs to organize charity events during the pandemic.
Crucially, the clubs and their fans didn't stop checking on vulnerable fans after football returned to action. They continued to raise money and to visit these fans for months to ensure everyone paid their bills and afforded meals months afterwards.
Still on charities, some football fans made sizeable donations throughout 2020. Lionel Messi and Cristiano Ronaldo, donated a total of $2M to hospitals in Barcelona and Portugal. In England, Brighton and Bournemouth offered 100,000 football tickets to medical workers around the UK.
Summary
COVID-19 might have disrupted the 2019-20 football season. But it didn't stop fans from supporting their favorite teams. Some teams showed support by purchasing seasonal tickets. Others formed tifos outside of the stadiums.
In some cases, fans formed charity groups to helps people most affected by the pandemic. These efforts, although not always appreciated, helped teams reduce financial losses and motivate players to deliver results sans fans in the stadiums.