Match report from Copa Libertadores.
Match report from Copa Libertadores.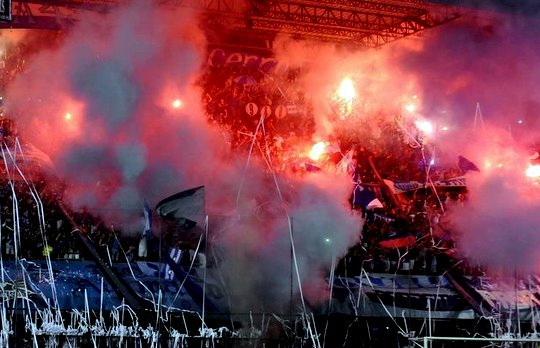 Our member "wfc1338" visited this match and later wrote a report on his blog latinhornet. We are happy we got permission to publish this report here on ultras-tifo!

Before the match:

Quite simply, you just had to be there. I am not sure that words can describe what an amazing night this was in Ecuador's largest city, but I hope I can make a good attempt.
Some of you will remember reading about my time in the away end at the Flamengo v Emelec game in Rio.  If not, here is the link for that report.
On that night, I was one of 30 'Ecuadorians' against 28,000 partisan Flamengo fanatics.  Last night could not have been more different.
After more than six months of travelling far and wide through every corner of South America, I only have three countries left to see (excluding the Guyanas).  They are Ecuador, Colombia and Venezuela.
As I was going to Ecuador first, I felt that I might as well start in Guayaquil and watch my adopted Ecuadorian team get revenge on Flamengo for the defeat in Rio.  Although I had more hope than expectation that this would actually happen.
Also, I thought it would be interesting to go to Guayaquil because I had no idea what to expect from it.  In fact, I think I am the only European who has ever been there for reasons other than a Galapagos cruise.
Whilst there aren't many notable tourist attractions, I have still found the city interesting.  This is because it almost appears as if somebody had taken chunks of many different cities in the world, from different eras, and dropped them all in one place.  For example, the middle class Urdesa Central district, where I am staying, has more fast food restaurants than people, and is basically yuppie central.  In fact the American style culture there is so exagerrated that you would think somebody dropped you off in the 80′s.  In poorer parts of the city, there are the same type of buildings without windows that I became familiar with in Peru and Bolivia.  They are deliberately left unfinished because of the tax that would be incurred by completing them.  The music and many of the buildings appear to be somewhat Cuban, and sitting in traffic on a decorated, hot, small and sweaty bus, held up by tons of people constantly walking in the road, could make you believe you are in India.  In addition to this, they have their own Christ The Redeemer statue which, for some unknown reason, they dumped in the middle of a load of tv antennas.  Then there is Parque Semenario, where people of all creeds and colours happily mix with iguanas that are over a metre long!
Finally, there is the George Capwell Stadium, named after the American founder of the club.  Suffice to say, what few tourists do come to Guayaquil are unlikely to have ever set foot in the neighbourhood surrounding the stadium.  If anyone has ever been to La Bombonera, home of Boca Juniors, it is a very similar surrounding to that.
As I walked around looking for both tickets and beer, as well as getting dirty looks from all comers, I felt like I did before I went to my first South American game at Racing Club.  I never normally worry about anything at South American games, but this place was certainly more than a bit unnerving.  Suddenly that feeling of that night in Buenos Aires – wondering if I was seriously going to go through with this – came flooding back to me.  However, I knew that a true groundhopper does not chicken out at places like this!
Having told myself this, not only did I decide to attend the match, I bought a ticket in general admission.  This is the cheap stand behind the goal where all the most fanatic supporters go.  The price of the ticket was 8 dollars, but I was charged 8.50.  I believe that the extra charge was just standard practice from touts trying to make a profit, rather than anything to do with me being foreign.
The match:
As it is illegal to sell alcohol in the areas surrounding Ecuadorian stadia on matchday, I decided I had nothing better to do than enter the stadium 2 and a half hours before kick off.  And what a stadium it was!  The contrast between the George Capwell Stadium and the Engenhao athletics stadium, which Flamengo use, could not have been greater.  It was nearly all terraced, all stands were right next to the pitch, and it looked like it could all fall down at any minute.  Truly, this was a throwback to an era of English football that I never knew.  A measure of how intimidating the place is came later, when the Flamengo goalkeeper and reserve goalkeeper were warming up, with one crossing the ball to the other.  However, even with nets hanging from the stands to stop missiles being thrown, the reserve goalkeeper was asked to cross the ball from a position further away from the home fans, for his own safety.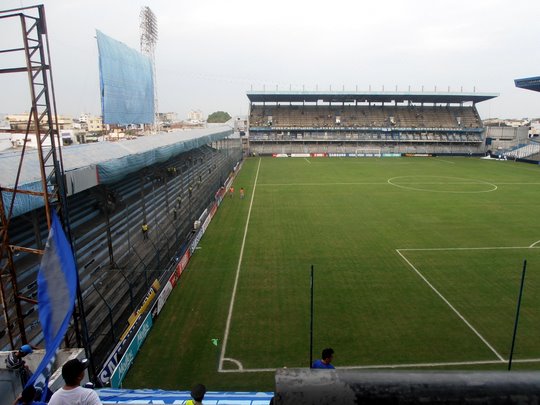 To update you on the situation in the group, the fortunes of both teams took a turn for the worse after the game in Rio.  An improved performance from Flamengo saw them steam into a 3-0 lead at home to Olimpia, of Paraguay.  However, 15 minutes of madness at the end of the game saw Olimpia score 3 times to snatch a point.  This was followed by a 3-2 loss for Flamengo in Paraguay.  As for Emelec, their match in Buenos Aires, against Lanus, was a carbon copy of the game against Flamengo in Rio.  A red card just before half time and a 1-0 loss.  They then lost the home game against Lanus by two goals to nil.  Lanus then thumped Olimpia 6-0, the night before this game, to top the group on 10 points.  Then came Olimpia on 7, Flamengo on 5 and Emelec on 3 points, making this game effectively win or bust for both teams.
As the Flamengo team came out to inspect the pitch, I found Emelec to be a very strange place to hear monkey chants for the first time in South America.  At first these were reserved solely for Ronaldinho, but by the end, most of the Flamengo team were suffering this abuse.  The reason it seemed so strange for me was because about 10% of the Emelec fans, and more than a third of the team, were black.  It would certainly be interesting to ask Emelec's black supporters, and players, if they find the racist chanting as disgusting as we do in England, or if they see it as a harmless exercise in intimidating the other team.
I finally got to know some other Emelec fans when Ronaldinho and Vagner Love jumped up and pressed their chests against each other, as American footballers do.  This sent the entire stadium into hysterics.  The guy in front of me said, 'what's next, a kiss?'.  I replied, 'if they score, probably'.  I have to admit that, having been in Brazil for 2 months attempting to speak Portuguese, I am currently deeply ashamed of how bad my Spanish has become.  Normally it wouldn't take long for people to realise that I am foreign, but for them to realise after I said just 4 words really is something else.  However, in my opinion, football is the same anywhere in the world.  It doesn't matter if you are foreign.  If you are there to support the team, and not just to take pictures of Ronaldinho, people will appreciate it.
During the warm up, I found that a nice feature of this stadium was that beer was sold in the stand.  This definitely softened the blow of it being prohibited outside.
As the teams took to the field, the atmosphere was incredible.  It was impossible to see anything for a minute, as the stand I was in glowed bright red, thanks to the large number of flares that the Emelec fans set off.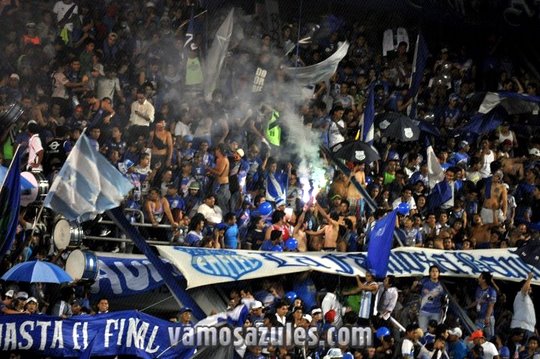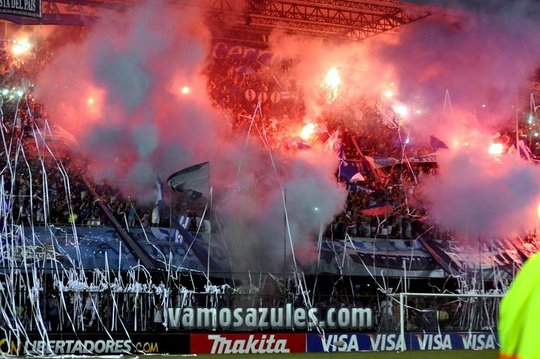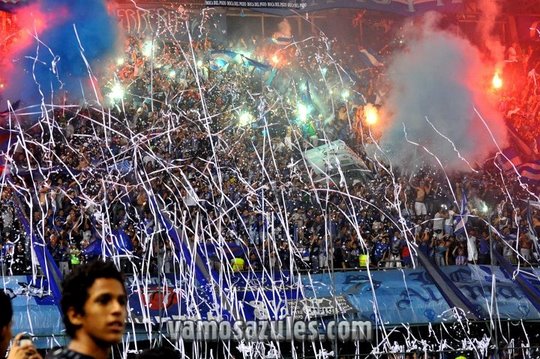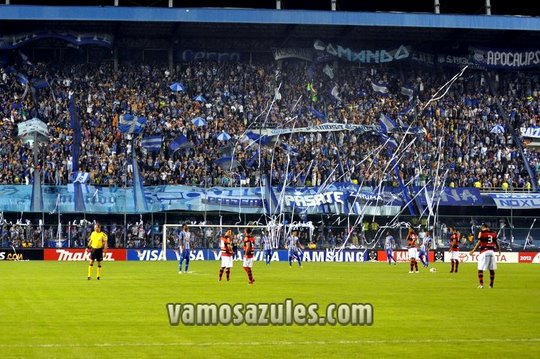 For the first few minutes, the passion of the fans filtered down to the Emelec players on the pitch.  They absolutely dominated, and were unlucky to put a chance wide from close range in the first minute.  The Flamengo players, on the other hand, looked scared stiff.  Just as in Rio, they were unable to put two passes together.
On 8 minutes however, a poor pass from Emelec allowed Flamengo to stage a counter attack.  The ball came to their right back who took a shot just inside the area, which took a deflection and looped up over the goalkeepers head.  As I decided to stand to the left of the terrace, so as to get away from the barras bravas in the middle, I had very little view of the goal.  The Flamengo fans on the side were also relatively concealed, with me only being able to see their two banners, and were too few in number to ever be heard over the Emelec fans.  However, having seen the trajectory of the ball, and the Flamengo players hugging each other, it was pretty safe to assume that it was a goal.
Emelec now faced the sizeable task of scoring twice as many goals as they had in the entire tournament so far.  In fact, even the goal they did score was a penalty.  For the next 25 minutes Emelec's performance was very similar to when they played in Rio, spirited but limited.  They had all the possession and looked like they could create something with their high balls into the box, but equally, Flamengo's counter attacks were something to be wary of.
However, everything looked to have changed on 34 minutes, when a simple corner was headed home by Luciano Figueroa.  Suddenly the whole mood around the place changed.  It hadn't exactly gone quiet before, but now, with the wind in their sails, Emelec had the whole stadium behind them, rather than just one stand.  Flamengo went back to playing how they started the game, and looked like they were begging for half time.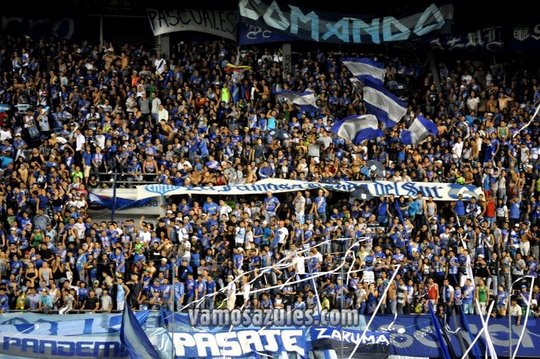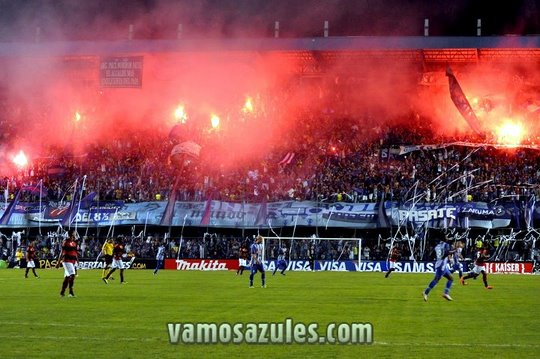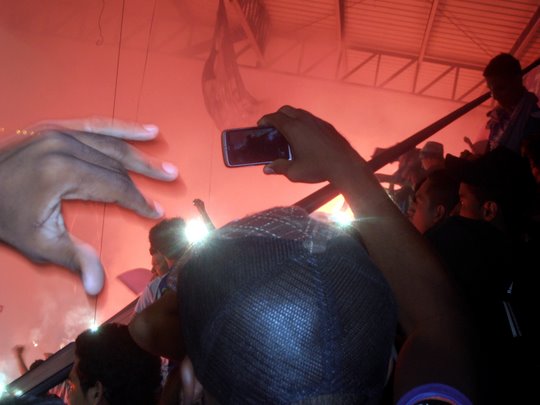 Amazingly however, Flamengo launched another counter attack on 43 minutes.  Ronaldinho played the ball to the left back, who crossed for the unmarked Deivid to head home from close range.  Easy as you like, and so frustrating if you were supporting Emelec.
Just as in Rio, Emelec had suffered a crushing blow before time, and Flamengo could well be expected to have their tails up going into the second half.  However, just as in Rio, Flamengo's second half performance was diabolical.  Emelec however, looked like they were really starting to believe in themselves.  They still weren't technically brilliant, but their wingers, midfielders and full backs were brilliant.  When they got the ball they wouldn't just shoot or cross the ball into the box.  Instead they would show more ambition and overlap beautifully, or just beat the Flamengo full backs and charge into the area.  This was pretty impressive as, from what I've seen, Flamengo's full backs are their best players.
This resulted in Emelec forcing corner after corner, and a warning shot was fired after about an hour when Figueroa headed onto the crossbar.  Surely Flamengo would learn their lesson and pick him up from now on.
Down the other end, a Flamengo counter attack could have sealed the match.  A cross came in for Vagner Love, who put a tap in over the bar, from close range.  It was the low point of an individual display that fell well below his usual high standard.  In this game, whenever he had the ball, he seemed more than happy just to lose it and fall over in an attempt to get a foul.
However, it is the performance of Ronaldinho that will come under most scrutiny back in Brazil.  To sum it up, if the Flamengo fans saw fit to boo him every time he touched the ball in Rio, he might not live to tell of his performance last night.  There were many moments when Flamengo looked as if they were playing with 10 men due to his ineptitude.
To make matters worse, the Flamengo manager then took off the Argentinian attacking midfielder, Botinelli.  Along with Vagner Love, he has been the only attacking Flamengo player that has impressed me.  To me, it doesn't matter if you are trying to defend a lead, you don't take off a player who can instantly change a game of this magnitude.  Naturally, this change resulted in Flamengo being pushed deeper and deeper towards their own goal.  Now they were barely venturing outside their own half unless they got a free kick, which actually happened relatively often due to the useless referee who had decided that if the Emelec players slide, it should be a foul, if they stay on their feet when tackling, it should also be a foul, and if they stand nowhere near a Flamengo player who happens to miss the ball due to his own incompetence, you've guessed it.
With 10 minutes left, I was thinking that, sadly, Emelec didn't have enough in the tank to prevent a completely undeserved Flamengo victory.  However I was really hoping that Flamengo wouldn't be lucky enough to win playing this badly.  On 83 minutes, to the relief of the whole stadium, Flamengo were punished for getting too deep.  From about 35 yards out, the Emelec player crossed the ball into the box, and it was headed home by Figueroa once again.  As it happens, the defence actually did pick him up this time.  However, with his back to goal he managed to flick his header low to the right of the goalkeeper and into the net.
From the two games I have seen, I can say that Figueroa was THAT striker, which means the one the fans always love because he may not be the most talented, but he will always sweat blood for the cause and win every 50/50 ball.  Occasionally however, on a night like this, through sheer guts and determination, he will totally change the game.  Growing up, I used to love being at the Vic on a night when Tommy Mooney or Heidar Helguson would make technically superior defenders look like schoolboys, and I'm sure the performance of Figueroa tonight will be written into the history books of this club the way the performances of those two have for mine.
Now both teams had to go for it, as a draw would put both their fates in other teams' hands.  However, it was Emelec who had their tails up.  Flamengo had shown themselves to be dangerous on the counter attack before, but now they were panicking, and rushing everything.  As for Emelec, the manager said at the end of the game that the team had to be patient, and they were just that.  This wasn't just a gutsy performance from Emelec, it was also an intelligent one.  They were happy to pass the ball around and wait for Flamengo to make the mistake, rather than panicking, and they also never boiled over when the referee made a bad decision.
When the winner came, it was from both a Flamengo mistake, and a refereeing decision.  The Emelec winger beat the Flamengo full back who, in a rush of blood to the head, put his arm out and gave the winger the excuse he needed to go down.  The referee had no hesitation in pointing to the spot.
Now followed 3 minutes of pure nerves for the Emelec fans, as Flamengo did everything they could to stall the penalty taker.  Ronaldinho even went as far as to start picking up the streamers that the Emelec fans had thrown onto the pitch at kick off, and was rightfully booked.  As the kicker stepped up to take the penalty, I had absolutely no chance of seeing it.  All I could do was wait for the reaction of the Emelec fans and hope.
I could see the ball sidefooted to the goalkeepers left.  Cue the split second wait that seemed like an hour…………………GOOOOOOOOOOOAAAAAAAAAAAAAAAALLLLLLLLLLLLLL.  When I saw the highlights later, it turned out that it was an absolutely terrible penalty that only just slipped under the goalkeeper, but who cares, this was party time.  A perfect night.  The South American equivalent of when Basel knocked Manchester United out of the Champions League this season, and I was there for it.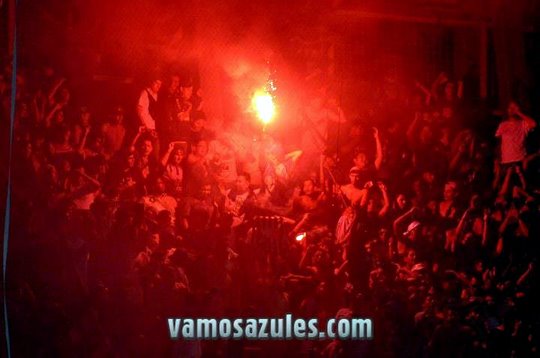 As the final whistle blew, many fans went streaming onto the pitch to celebrate.  This truly was real football.  This was what I grew up with. A small run down stadium where a heroic team of underdogs beat a team of overpaid celebrities.  If anybody ever asks me what my favourite match in South America was, I would say that game, along with fortaleza, because those were the two games I can relate to most.
In their final game, Emelec will have to beat Olimpia, in Paraguay, to qualify.  They will be huge underdogs, but they have beaten Olimpia before, and after last night, as well as Olimpia being hit for 6 in Argentina, nobody would write them off.
After seeing that match, the first thing I did today was to go out and buy an Emelec shirt.  This was my first shirt in South America and I bought it because, led by Figueroa, Emelec symbolised everything that a football club should be, not just last night, but in Rio as well.
More photos: