Two days after terrible tragedy on match between Al Masry and Al Ahly, one of the guys from Ultras Ahlawy, also our forum member, wrote report what really happened there and how 73 people died... This is his story:

There is 3 elements to what happened considering ultras Ahlawy has been so vocal against the army in the last 2 months (following the death of our member Mohamed Mustafa in November with a bullet in his back by the army).

Our last tifo last week end was Ahlawy revolutionary and we chanted heavily against army and had a tifo saying they were thugs what happened last night was the price we had to pay.

1 - The police which allowed them to enter with weapons in the stadium and allowed them to invade the pitch three times during the match and after every goal without any interference which is impossible in Egypt and not usual

2 - The army that locked the door that leads to the large area behind the away end and the away toilets with a lock and nobody to protect it, my friend from zamalek who indirectly said people died because they cramped with the door closed should know that police lock the door when there is cops inside the and outside the gate not usual to lock this particular door that leads to toilets and the person who lock it disspears 2 ms before the end of the match with already dozens of people on the running track and a pitch invasion so obvious as there was nobody in this area and people were trying to get into this area for 20 ms without anybody in sight from the police

3 - Hatred between us and them that goes back since the 30's this always been a high risk match, it was the only away trip my dad tried to tell me to not go from going to some 15 yrs ago long before there was ultras or organized supporters group as violence has been a fixture between the two set of supporters since forever (ahly and ismaily is considered to be more dangerous in the media but portsaid is a far tougher and intimidating city) i dont know if they were aware of this police and army conspiracy or not but fair play to them they came prepared to kill us (a message they had in the 1st day saying "your death is here") we were handed to them on a silver plate and they took advantage of this perfectly , this is a big loss to us in a very unfair situation , there is no rules there thats their mentality and we paid a heavy price
you win some , you lose some
sadly this was a very heavy loss

Riot police was standing in front of the away end like its usual in all games in the Egyptian league, two lines: one behind the goal and one in front of the curva, as there is a large running track there .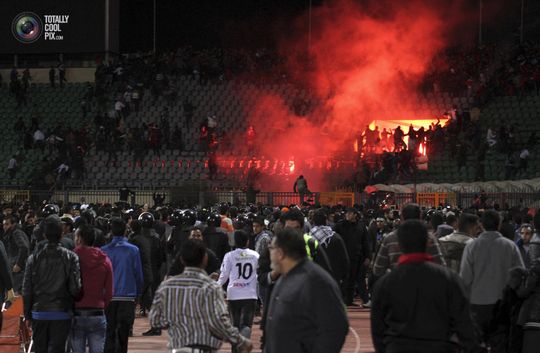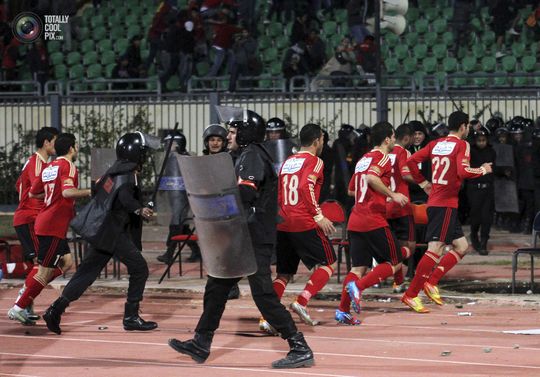 They invaded the pitch with huge numbers and attacked our players. We were worried about our players even some of the boys tried to jump down to protect them.

Suddenly when they came down on the running track in front of us the riot police behind the goal went to the sides and let them pass and the second line in front of our curva disappeared, and they were throwing signal rockets straight on people and flares and stones so we had to go back a few rows.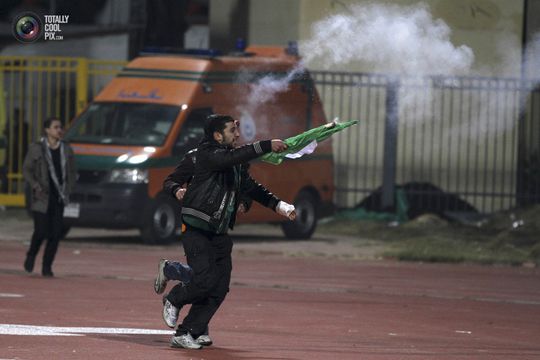 We didn't even have time to react and meet them on the door as we were taken by surprise to be honest as it all happened in 30 seconds and not something you are used to see in Egypt with tons of riot police with the fence.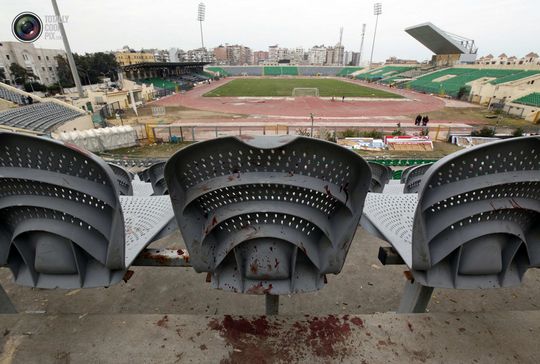 Suddenly they were inside our away section. Armed with everything you can imagine. This picture show a white stick they all had with them inside the curva. How they entered stadium with that amount of sticks in a high risk match is beyond my fantasy.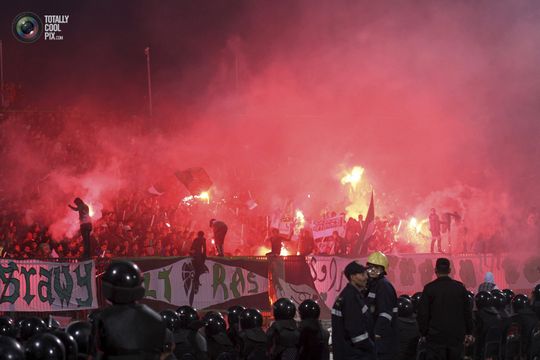 As said, people had lot of weapons.
Some people tried to escape through a tunnel that leads to a large area behind the away end. To their surprise this door were locked with a big lock. Doors like this in stadium in Egypt never use to be locked like this!
Most of the people who fought and died were either stabbed, shot, strangled or thrown from the curva and down to a large area beneath.
People who tried to escape were caught on  the stairways leading to the runnel. Lot of people died here and to make it even worse fans of Masry threw flares and rocks on those people who were stamped.
It was a tragedy. Every third hour after the attack you could hear a name of another friend who has passed away.


Ultras is a way of life and not death.
Sadly this is a very heavy loss for us. Police and army wanted to punish us, they used their hatred against us. Too many brainless animals without honor.


This video shows a lot of details:
You can see the amount of riot police infront of our curva, so we didn't expect anything really, beside of maybe a few things thrown toward us.
From 0:45min out in the video we realised they were running behind our players. You can hear lot of words like "el laaiba" (Eng: the players) were shouted from our curva. We tried to get the riot police to go and protect our players.
From 1:16min you can start hearing fireworks, flares and signal rockets aimed directly at us. Still you can see lot of riot police infront of the away section.
After 1:48 a lot of people scream "stand your ground", "be ready" etc. Then the chaos starts to happen. To our surprise the crowd of Masry fans just easily passed the riot police, and for some odd reason the doors down at our section were not locked!
Around two minutes later the lights turned off. We had Masry fans already inside the away section and nobody could see anything. The exit door were locked.



One of the most important songs in our curva says:

"The greatest club in the universe
if the whole world is against you
i will always be madly in love with you
the day you win is a day of celebration for me
i will never be far from you
THE DAY I WILL STOP SINGING
IS THE DAY IM DEAD"
We always sing the last two lines louder then rest of the song. I guess for the next times we sing it, we will sing it louder then ever and we will be thinking of all our friends that this sentence represents.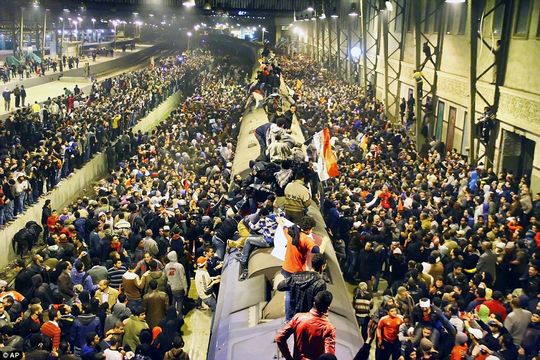 Fans on Al Ahly returning to their town after the match...
Founder of Ultras Devils among the dead fans.
One of the members who passed away was also a member of the Ultras-Tifo forum (red_devils). He was the founder of Ultras Devils, an group that consists of Ultras based in Alexandria.
He was a younger brother to me, a boy with vision. I remember in September 2007 when they wanted to start a new group for people based in Alexandria, and there was a big debate in our group (Ultras Ahlawy) weather to force them to be part of Ultras Ahlawy, or to allow them to be a separate group. I remember he told me he wanted to have a proper group as it would help them to have a separate identity, and that would make the members more loyal than just being a section of a bigger group.
He convinced me with his arguments, and I remember I fought a lot of them to be a separate group.
He was right. They started at a time when Alexandria was a very strong base for Zamalek (Our rival in Kairo) and in two years they became much bigger and stronger than Zamalek in that area. One of the main reasons was the fact they were a separate group trying to prove themselves.

I always phoned him before any games in Alexandrie. Told him to rent us an apartment, as Alexandria is such a lovely city it was perfect to go and spend a day before the match, drinking and having fun.

He was the brains behind most of their Tifos. And in 2010 they produced in my opinion the best Tifo during that season. It was the Tifo about our latest president, Saleh Salim. A choreo so difficult to make, but the result was brilliant!

Awesome young boy aged 23 that traveled hundreds of kilometers, sometimes several times a week to always watch his team, no matter what sport it was.

That kind of guy that never had a drink, but always happy to go down with whoever turn it was to go buy a beer, just to keep him company.

The sort of guy that smiled politely at every joke, even when it the joke was so bad and everybody else were taking the piss. The sort of guy that lived and died for his club....Literally.

Whats sad... He was only one among 73 others who died this evening.
May they all rest in peace!

Read more about this tragedy on our forum.
Ultras-Tifo want to express condolences to families and friends. Rest in Peace.
Ultras and football is joy, fun, friendship, rivalry, competition... surely not dying, hatred, politics...

Photos: http://totallycoolpix.com/