Match report from Slask supporters.
Match report from Slask Supporters on trip to Dundee 21.07.2011.
Slask Wroclaw supporters (Poland) with fan invasion to Dundee (Scotland) for the Europa League match against Dundee United. Quick look on google maps tell us this trip is over 2100km, one way!
Here is a match report written by our member "Slazak":
Most of us were going to Dundee by bus, it takes from 14 - to even 40 hours by bus(one way). There was organized busses by official fan club, this did cost over 200 euro, so for us it was a really expensive trip and this was one of the cheapest options.
When we came to Dundee at 2 o'clock I was in shock. Everywhere I could see green colors and faces of hundreds of friends, it was a really great feeling for me to meet them all over there and have fun together. About Dundee supporters, they called us and offered a fight before the match, 150 vs 150. We accepted it, but nobody believed them. Later around 15 of them came to the city center, showed their fingers and ran after 10 seconds.
We had some fun as well. Some lads in a spy tactic stole a big drum from a restaurant and came to city center with it. After a while cops came and took the drum back.
Ok, lets move to Dundee Stadium and write a little bit about Polish emigrations. It was not a kind of match like in London or Dublin where it lives lot of Polish people who want to watch a Polish team. There were really good lads from UK and Ireland on match who supported Slask for years. I must say our friends supported us very well. Motor Lublin came from London with 35 lads, unfortunately driver called police and didn't want continue driving. Cops stopped them for 3 hours, and after riot with them they reached Edinburgh and came to Dundee by taxi for the second half of the game. Next day at 6 o'clock in the morning they were still in Dundee, so thanks a lot guys!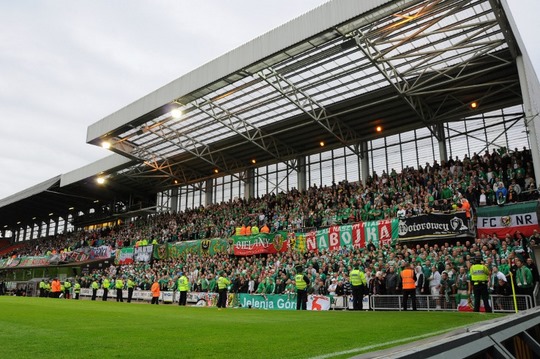 More photos at www.slasknet.com
Under the big roof we had people from Wroclaw, on the left emigrations.
Our support was very good by 90 minutes, but we had some problems with communication because fuckers in blue took our megaphones and drums.
Dundee supporters? They are more like football fans than supporters, so I cant tell so much positive about them. But a few times they surprised me.
It was a long trip for us, but not the last! Next stop is in Sofia for 3rd qualifying round.
Some days before this match Slask Wroclaw had presentation of the new team in middle of the city. Big number of supporters showed up to give their support.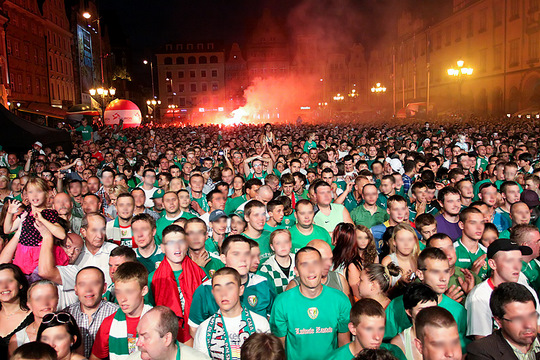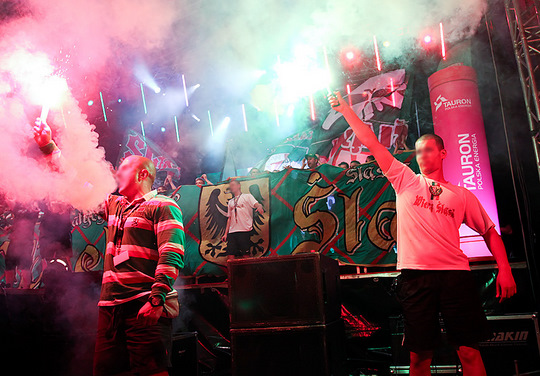 Here is also a movie from Slask Wroclaw - Dundee United in the first round:
Contact admins if you have a match report!
Get the latest news, best photos and videos from Champions League and Europa League 2011/2012 by following us in this topic: