Austria: Match report from game in 3rd division.
Austria: Match report from game in 3rd division.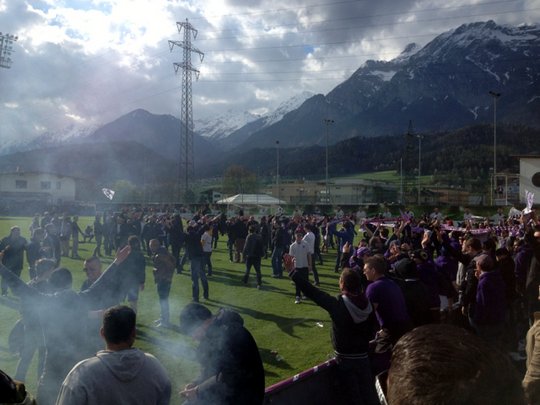 Important game in Austrian 3rd division. Austria Salzburg who lead the Regionalliga West division, faced WSG Wattens, which is on second place. Both teams battle for the promotion to the professional football and before this game Austria had 6 points advance.
WSG Wattens is the factory team of the well known crystal company Swarovski. Since a couple of time they had a woman (Diana Langes-Swarovski) as president and she has good business connections. For example they work together with FC Bayern or bought in the winter break players from FC Chelsea future team (youths).
Days before match-day the game was sold out (Austria just got 800 tickets because of security reasons) and it was named as high risk game (police was afraid Wacker Innsbruck lads show up). On match-day 7 buses from Salzburg drove to the small town Wattens (7659 inhabitants) and security was overwhelmed. The entrance check lasted very long, banners against Tirol were prohibited (but found their way into the sector).
As Intro Wattens had a paper choreo (sponsored by the club), Austria fans had a mix of flags and balloons. In the away section support was okay, but not good compared to other games. At the home side just a few kids screamed a few chants.

It looked like Wattens would win by one goal, but in the 93rd minute Austria scored the 1-1 goal. Around 50 supporters stormed the pitch and celebrated – fortunately the referee didn't suspend the match . One minute later Austria had the big chance for the second goal and (probably) the victory in the championship. But also with this score the chances for a promotion are very good
After the game 3 Innsbruck lads stormed the pitch but security stopped them before Austria guys could reach them. All in all nothing special happened, just a few Wacker lads provocated and posed behind the police lines.
Photos: