Thailand: Ultras-Tifo attended a match in Bangkok.
Thailand: Ultras-Tifo attended a match in Bangkok.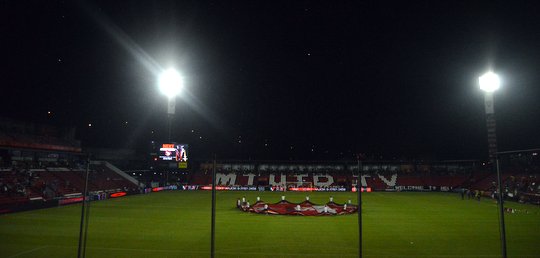 During summer holiday one of the admins on ultras-tifo.net decided to give Thai football and their supporters a visit. Contact with Ultras of the leading club in Thailand were created.
Facts:
City: Nonthaburi province (just north of Bangkok).

Club: Muangthong United
Stadium: SCG Stadium (Yamaha Stadium)
Main group: Curva Sud Pyro
Price ticket: 3 Euros
Thai football
What to expect? Football in Thailand is still very "new". Even thought football existed in Thailand for nearly 100 years, it didn't get popular until the last 10 years. Most of the clubs were founded between the 70`s and 90`s and the Thai Premier League was created in 1996.
Even thought the Premier Leage was created in 1996, it didn't get serious before 2009.
The level of football is not very high, and with clubs in the top division named Army United, Police United and Air Force Central, what can you expect to see then?
The team I came to see, Muangthong United, were founded in 1989 and known for having among the best fans in the country.
Match-day
I took a taxi to Nontaburi, province located just north of Bangkok and home of Muangthong United. They play on the SCG Stadium which opened in 1998. After being rebuilt the capacity is now 15 000 spread out on 4 different stands. Luckily there is no running track, therefore all four stands are very close to the pitch. Considering this is a new stadium I really like the design. It's intimate and not too "fancy" as new stadiums elsewhere just to end up to be.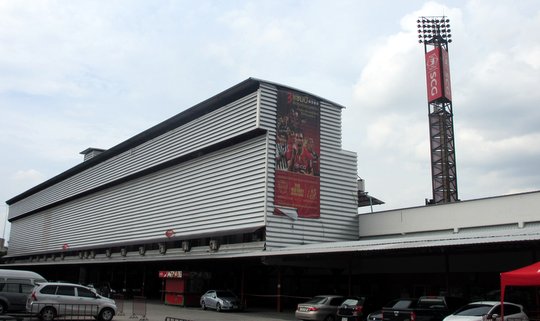 SCG Stadium
I met the supporters 3 hours before kick-off on a café just outside the stadium. Great lads who welcomed me with free beers, and of course a group scarf and stickers.
As the match against Songkhla was considered as nothing special, they hadn't planned any special choreography for this match. And unfortunately use of pyro in Thailand is now totally forbidden. The Thai FA seem to copy the European laws and huge fines are now given to the clubs. Therefore the ultras of Muangthong United decided to only use pyro on special matches. One reason is of course the economy of their own club, another reason is they want to avoid any conflicts with normal supporters of their club. As long as the ultras group still is a small group, they need to take step by step.
Before kick-off the group made a short corteo outside the stadium to "warm up" the atmosphere.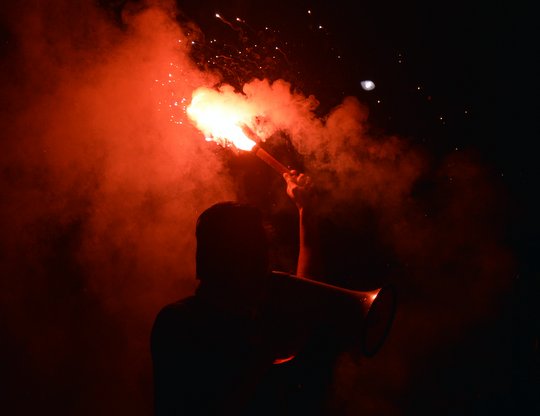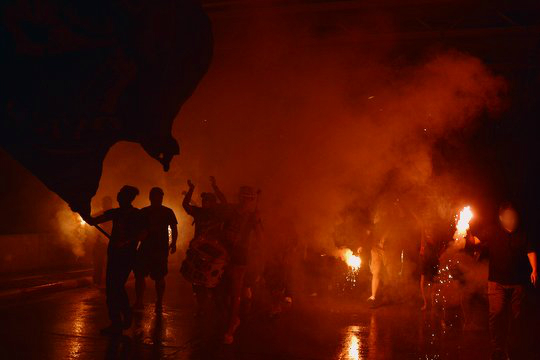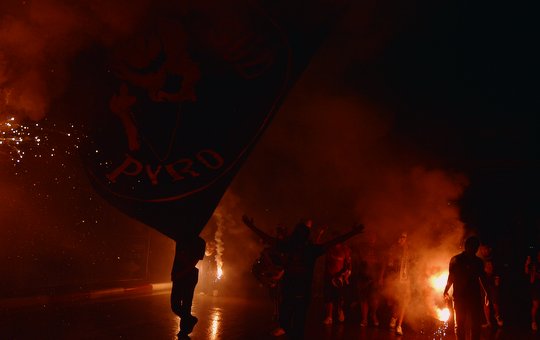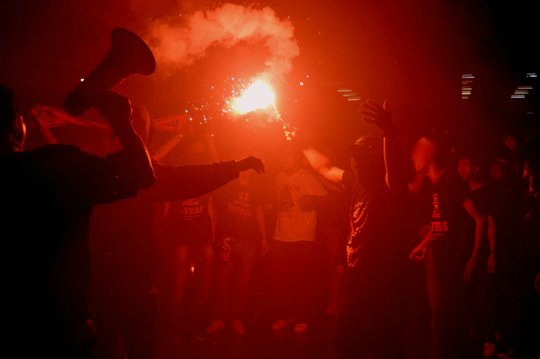 Heavy rain started before kick-off and continued during the whole match. I will guess around 8000 spectators showed up on this match, and most of them went home wet, as there is hardly any roof covering the stands.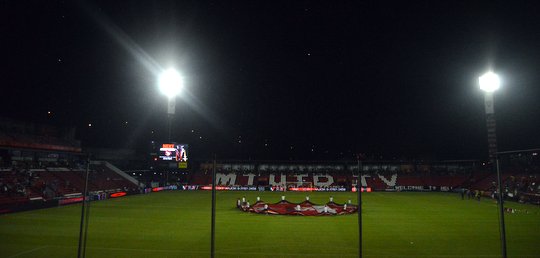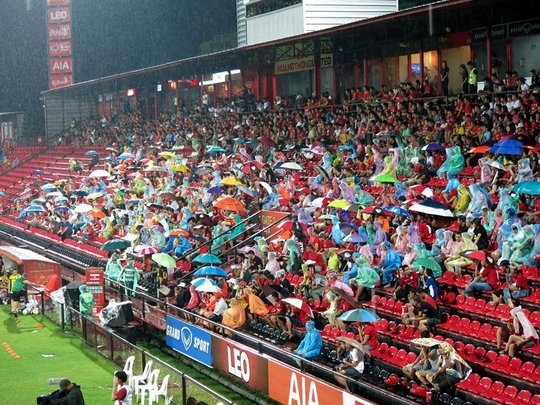 Curva Sud Pyro have their place in the south stand, which is also the main stand for singing fans.
Two capo towers in front of the stand, one used by the ultras and one used by more normal supporters.
On the opposite tribune (north stand) a small group of supporters also gathered.
Close to 100 away fans supported their team during the match as well.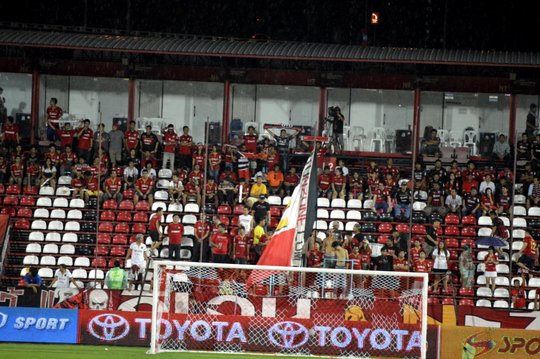 North stand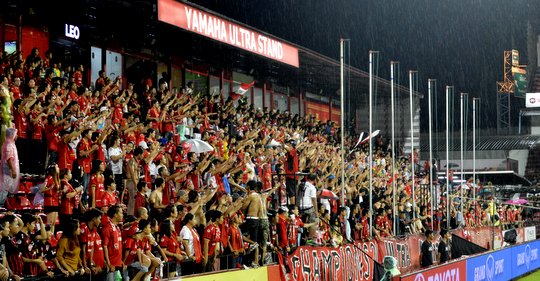 South stand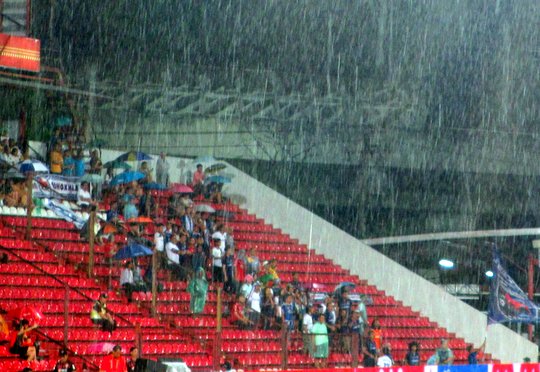 Away fans
No doubt ultras in Asia and outside Europe in general are being criticized for using the name "ultras" and taking inspiration from the European way of support. But actually there is no big difference from when countries in Europe started to copy from Italian Ultras. After a few years it gets better, one example is the Swedish scene now days!
If you attend every match, home and away. Spend hours in an old bus for away matches, use pyro, organize choreo's and sing for your team. Well, isn't that exactly what ultras is all about?
Even thought this group also call them self "ultras", I was impressed by their support. They seem to understand they need to keep their own style of support and they work hard to stand united with normal supporters of their club. Somehow they seem to succeed! Both capo's on the south stand worked together during the whole match, the whole stand took part in the same songs and chants, both the ultras and normal supporters.
Some of the melodies they used are well known in Europe, but they also had their own songs. Great variation actually.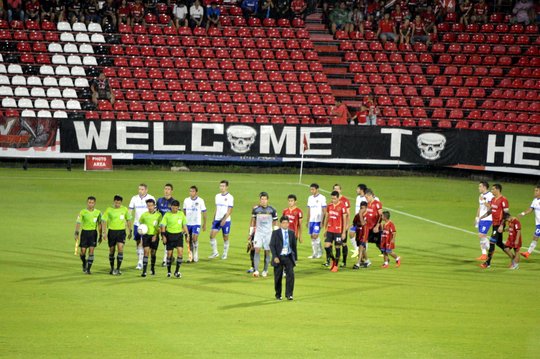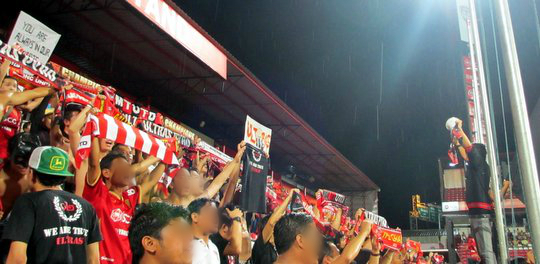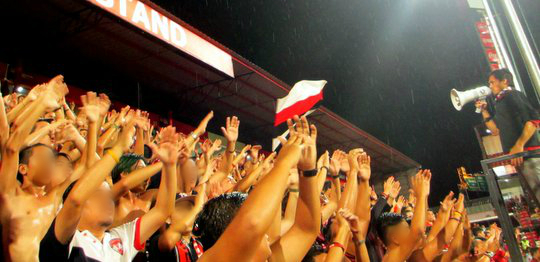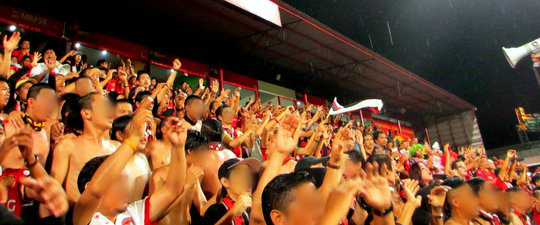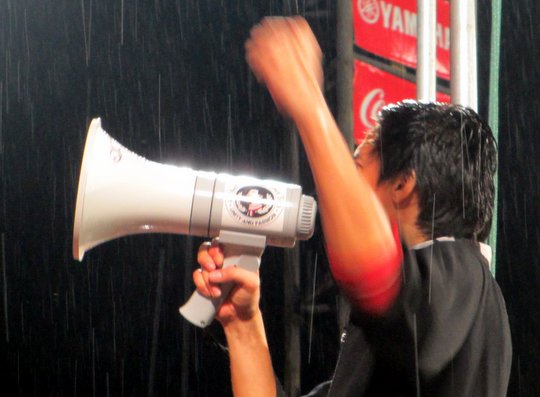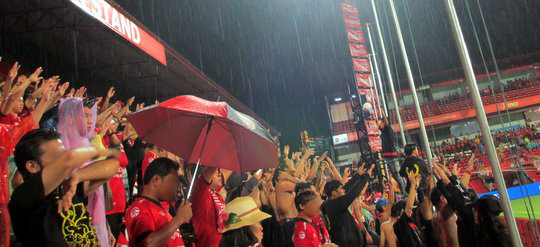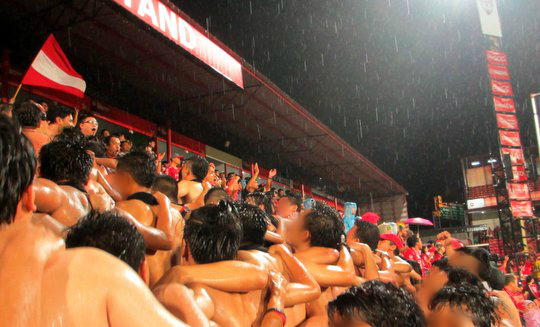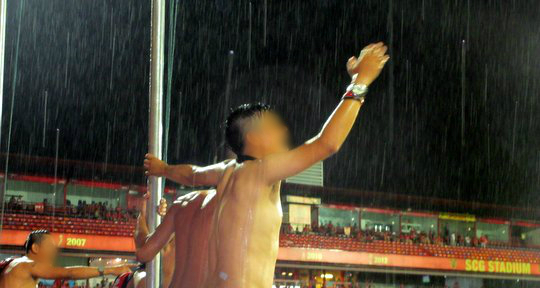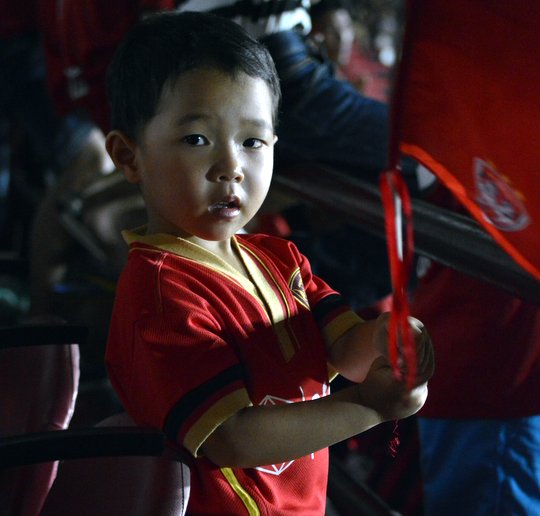 Few girls is part of the group, chanting during the whole match, just like everyone else in the south stand.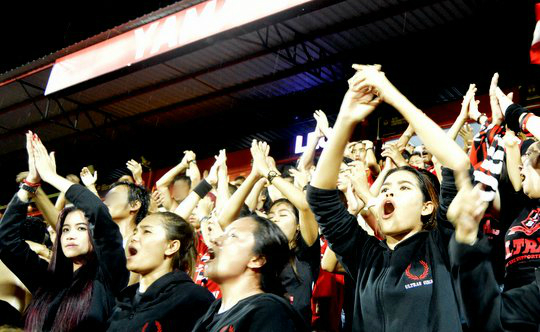 Organized support in Thailand is still very new. They have much to learn, but the number of fans increase every year and football seem to be more and more popular. I'm sure the supporters in Thailand will getting better and better year by year!
Thanks for being your guest and good luck with the group!