Match report from one of the smaller matches in Czech Republic.
Match report from one of the smaller matches in Czech Republic.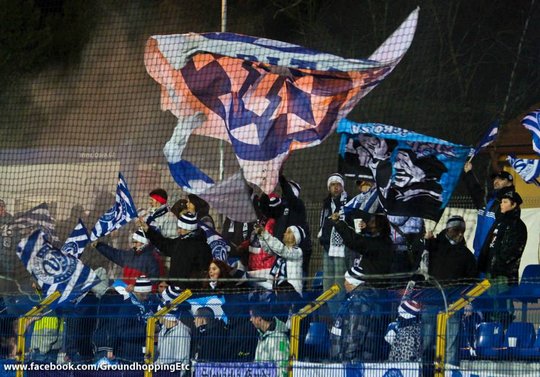 It's important for Ultras-Tifo to also give the smaller groups little bit attention. This time we got a match report written by groundhoppingetc.com (www.facebook.com/GroundhoppingEtc)
Respect to all those who do their best supporting their local club!
Match report: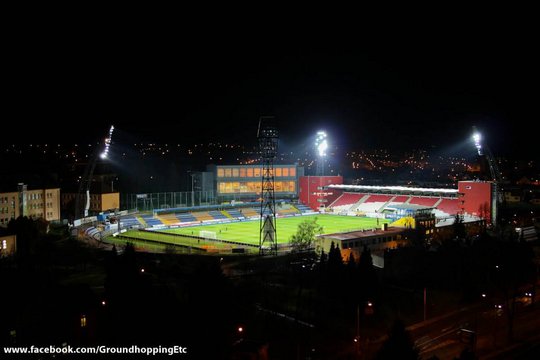 "If you fall off the roof, I will come after you and kill you a second time," the friendly young Czech lady told me as we were going up the elevator to the top of the office building near Jihlava's Stadion v Jiráskově ulici. She was armed with several sets of keys, and it felt like a bit of a scavenger hunt as we moved up further flights of stairs, unlocking countless doors in the process. It was really nice of her to go through all that trouble just to help a nerdy photographer take a picture. "You have to climb the last ladder to the roof alone, though." Fair enough. No tripping over the cables now, there is no railing – remember, she'd haunt your ghost if you fall.
But the view was absolutely worth the risk: a stadium from the top drenched in floodlights is hard to beat in and of itself. It brought back memories of a visit to Plzen, where several hundred steep steps up the Czech Republic's highest church spire revealed a similar delight. Today's view was not from as far up, but it gave a really good idea of how FC Vysočina Jihlava's stadium is laid out, it's an interesting hybrid of the good old rustic charming grounds this country has to offer and modern arenas.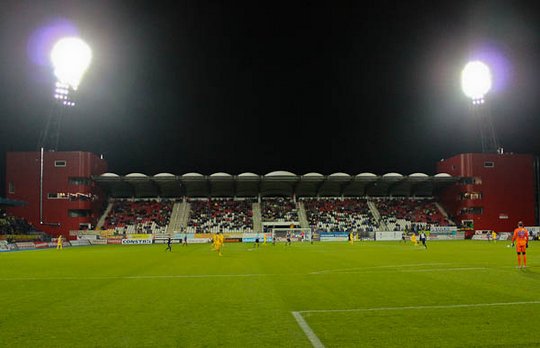 Across from the old roofed main stand is a long building with the club's offices, lockers and media room. Perched on top of that building is a tiny little roofed stand for club officials, VIP and media. Behind one of the goals you will find a curved stand with a few seats and a bit of terracing (that's the away end), whereas behind the other goal there is this massive modern stand that gives you an idea of what this entire stadium could be transformed into if there were political will and funding. That's probably what was intended in the first place, but for now you get to enjoy a more diverse architecture, rather than your standard identikit arena.
And it's not like the ground needs to be bigger than its current 4,082 capacity, the average attendance of this and of last season is about 3,300 (slightly raised by sellout matches vs. Sparta Praha or Viktoria Plzen). Jihlava has 50,000 inhabitants, twice as many if you count the surrounding area. It's the country's oldest mining town, the first silver was extracted in 799 which let the city rise up to one of the mightiest in the kingdom. At the end of the 18th century, the last mine was sealed shut, today everything is overgrown and except for a few guided tours you would never know it was there. People work industry jobs nowadays, like mechanical engineering or processing metals, wood or leather.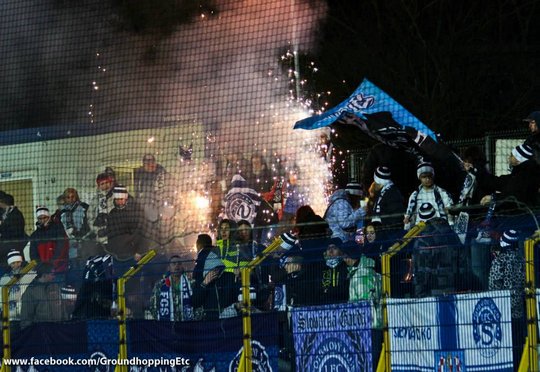 And on weekends, they get a chance to see first league football – though this might be endangered as FC Vysočina Jihlava's second Gambrinus Liga year (six seasons of second league before that) could be its last: the club is at the bottom of the table, lost its last match 0:5. The coach was fired and the players felt like making it up to the fans, so admission was free today, and season ticket holders got a free sausage. 2,975 people took them up on their offer, 60 of them supported visiting 1. FC Slovacko, who are positioned in mid-table. The small group tried to get some attention with a few chants, flag waving, sparklers and a little choreography, a display of hearts.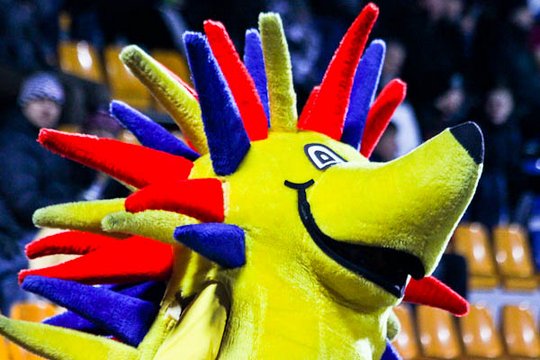 Their about 150 counterparts in the Jihlava Ultra corner sang throughout the match, supported by a drum and the psychedelic hedgehog club mascot. They also threw a bit of red smoke during and a bit more after the match to celebrate the team's victory. It was a well deserved win and the game did not look much like a relegation battle, more like mid-table mediocrity – that's probably better news for Jihlava than for Slovacko. Neither team had many ideas, the hosts scored twice within a short time span towards the end of the first half (36., 39.) and focused on counter attacks during the second half, some of which were even quite dangerous. Slovacko increased pressure but was not able to crack the defense more than once (72.). Jihlava leaves the relegation zone for now and who knows, the friendly folks in the office building across might get to see first league floodlights just a little bit longer.
More photos: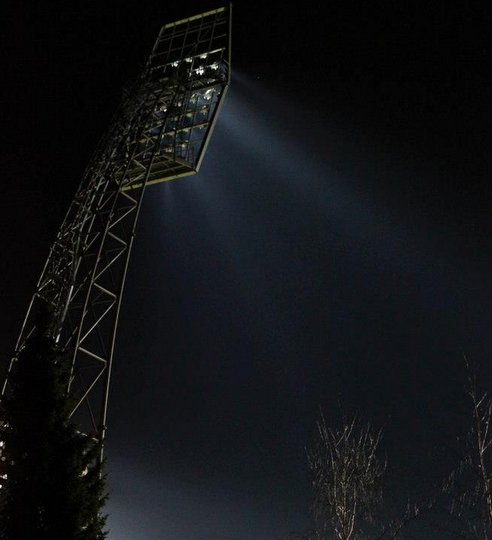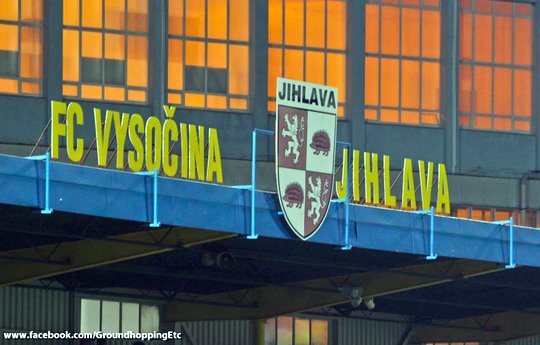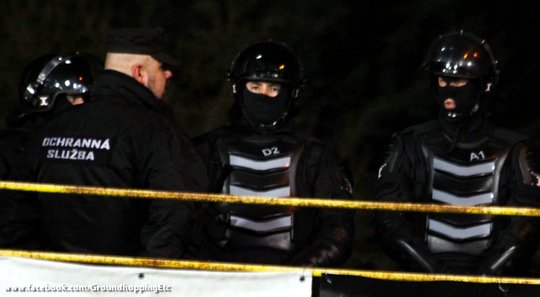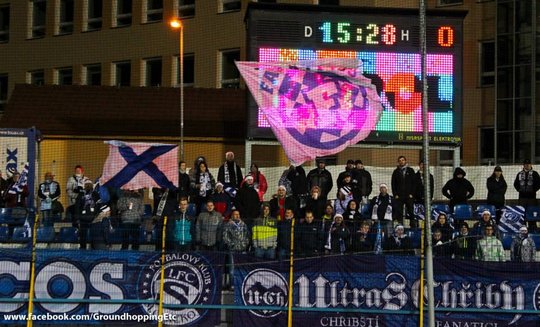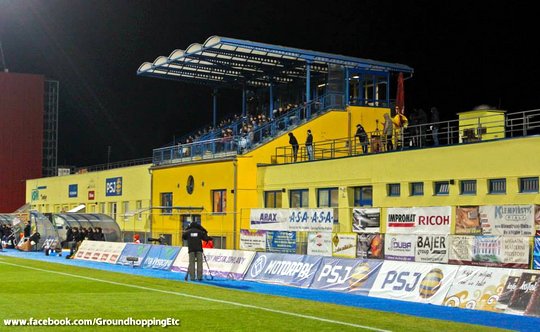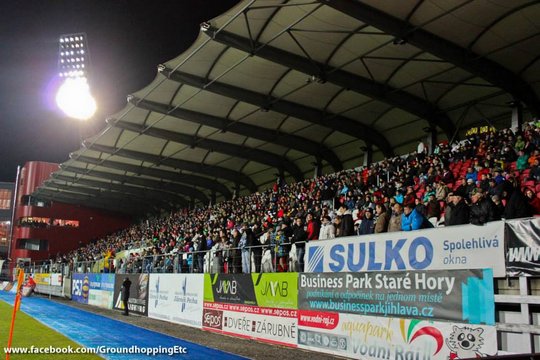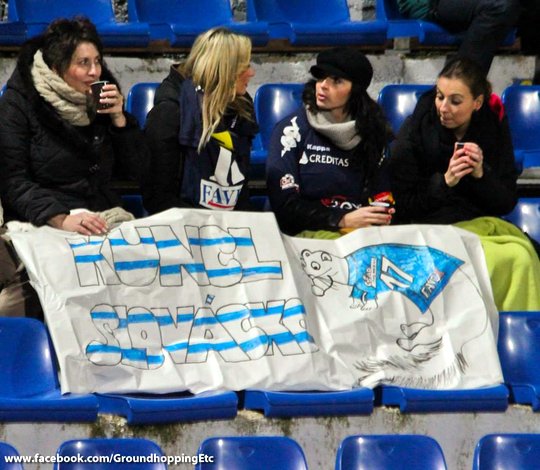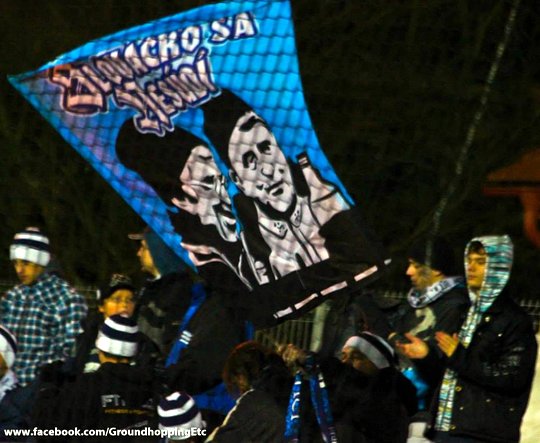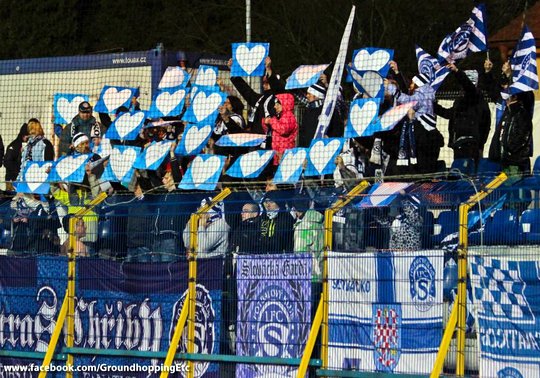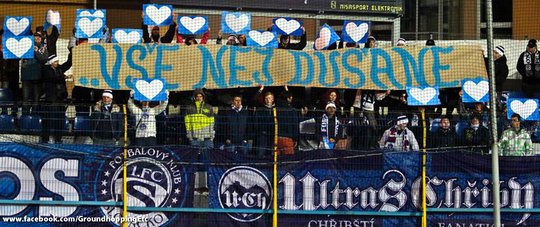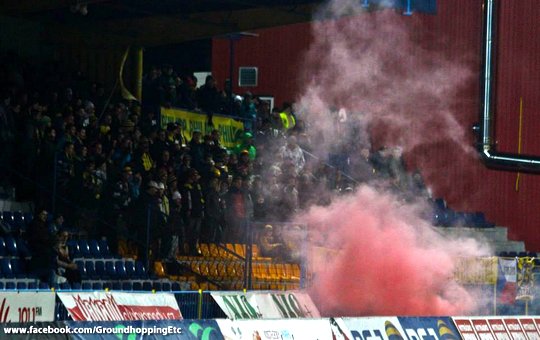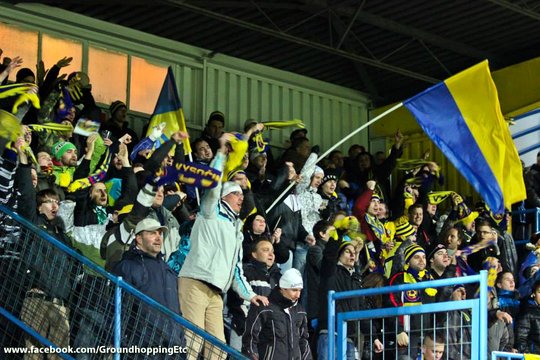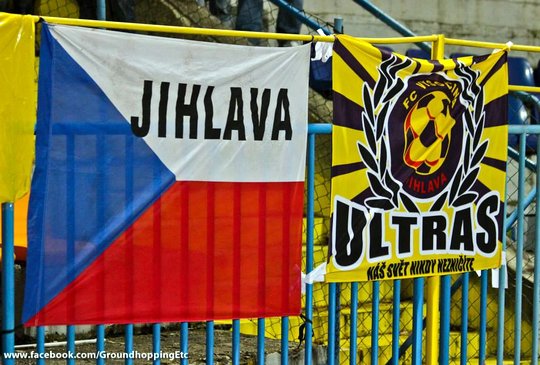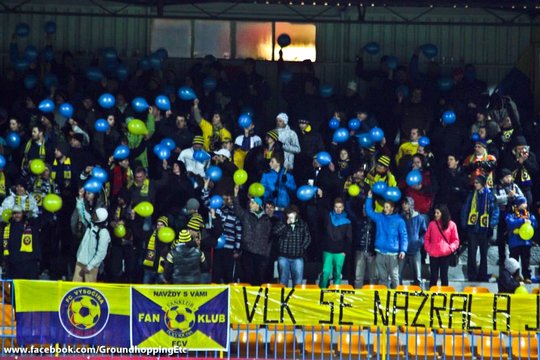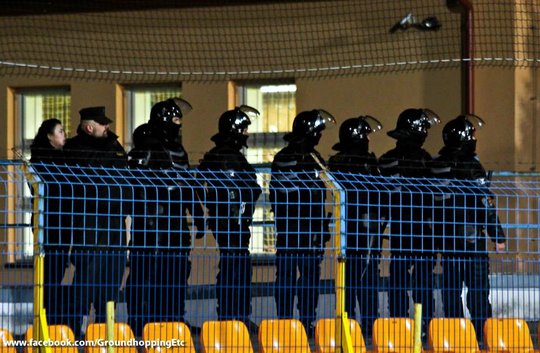 Video can be seen here (facebook).
Thanks to www.groundhoppingetc.com for this report!