Interesting match in Champions league. We got report from one of our forum members:
"I came back this morning from Marseille.

We (Genoa) were 8 guys but traveling with different groups and bus.
I don't want to tell witch group do what so don't ask me, it's not the right place.

I was driving since the border of France, because we were 10 in a 9 seated van, and I have Bus driving license so French police let us pass.
We were 2 vans, and there are at least 10 buses and maybe 15 Others vans full of Napoli ultras on the highway.
I waited for the French army when we were arriving in Marseille but there were no cops, better for us.
We lost the bus with Curva A groups in the traffic, and found later another bus of Fedayn (there were also two cars from Serbia, I guess some personal friends, i saw them after match and seemed very good guys also saw one of them which placed a Spartak sticker on the way)
We drove in the traffic without any cops and went in front of a couple of bars full of Marseille fans, but they didn't interested. When people in the first bus left the bus police that waited in the Street corner attacked with spray and nothing happened.
I was a little disappointed because hoped for something more.
When we parked the vans, regrouped and tried to exit for search some troubles, outside there was the main Group of Curva A finishing their corteo.
When we were with them and tried to force police, they started to attack us very hard with pepper-spray,ecc
Total war.
They charged many times, we tried to give back with flares ecc but these CRS are very tough, moved us under a shed, in front of us there was a water cannon, we were in a trap.
Many guys with big injury.
When all finished, one guy of the Group I was with was sent to hospital with a broken foot and obviously the rest the guys wanted to go to hospital with him, but police didn't let us exit and we entered stadium when game started
That's why we stayed in the upper part of away Sector with my Genoa flag always hanging in the hands, you could see in the pics before, up on the left.

I know which Group fight in the street before game and have the bus hit by stones, bottles ecc because one of our guy was with them, but I can't tell on internet.

Inside stadium, good atmosphere but both Marseille stands have a sound system and seemed to be in some music concert... I could hear capo of the other stand speak very well, we had neither a megaphone.

There weren't any banners from Marseille big friends Sampdoria, maybe they feared to travel in the same highway with 1000 Napoli ultras

After the match police escorted us till outside the city and Italian cops waited for us at every station after the border.

Very good away for me."
OM: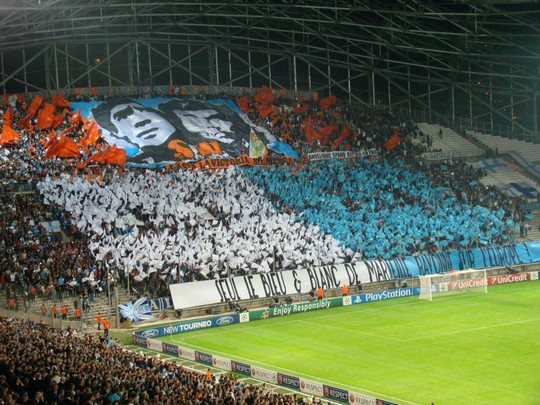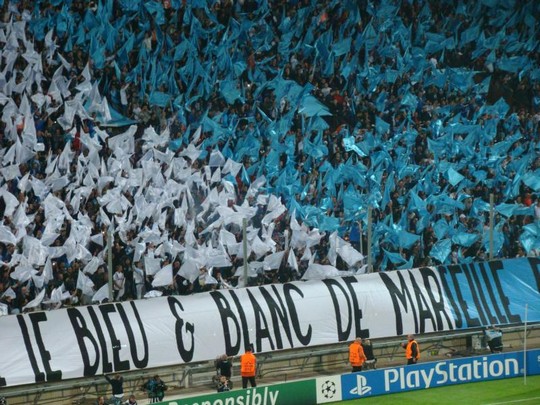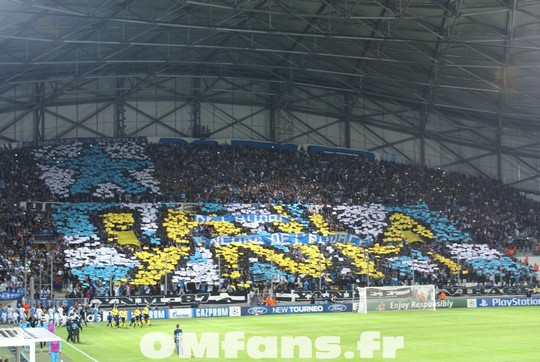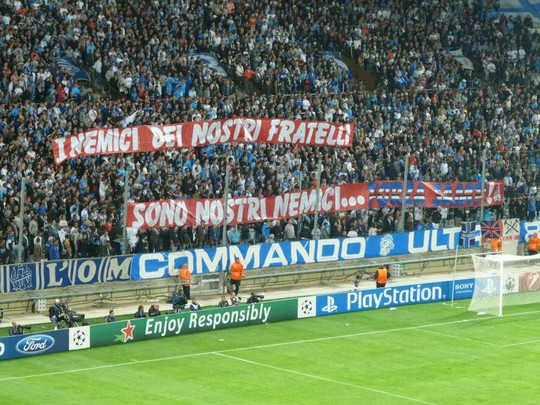 Napoli: