Match report from biggest Hungarian derby.
Ujpest – Ferencvaros, derby of Budapest, and also biggest match in Hungaria was played last Saturday, and I had a chance to visit it with my friends.
We came little late on match (5 min after kick off), and already lots of smoke were in the air. Unfortunately we missed both tifos as we arrived to late...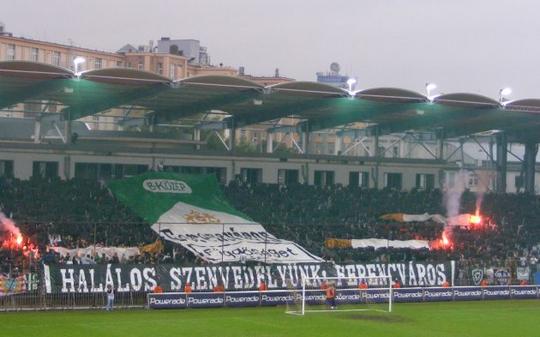 Deadly suffer: Ferencvaros
We had tickets for sector B (east stand), where were Ujpest fans, and also place to buy beer :) In 28th minute Ujpest scored first goal and lot of flares were lighted on south stand where Ujpest ultras are located. In 43th min 2-0 and again new pyro show by Ujpest Ultras.


On beginning of second half new tifo and pyro show by Ujpest fans. Also Jimmy Jumper run an into the field, with a Catalan flag and a message "Kubala forever" (Kubala was a former Ferencváros and Barcelona player). Before the security guards cough him, he kicked the ball info the FTC goal!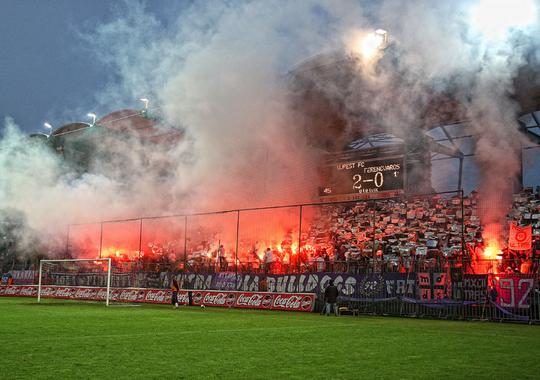 Again smoke covered field and referee stopped the match.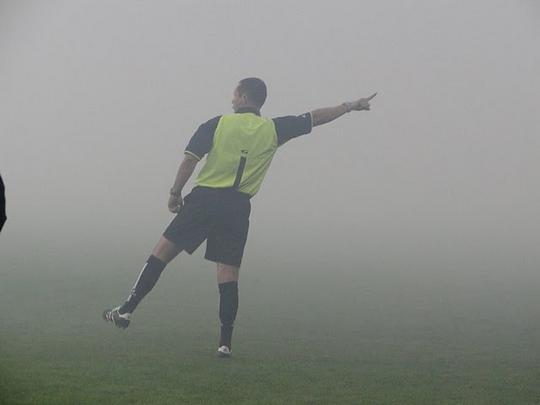 Little later match continued and in 72th minute it was already 5-0 for Ujpest! Ferencvaros supporters were very angry, so they started to throw pyro and seats and tried to break into the field. Lots of police get into the field and match was stopped again! When the riots calmed down, match continued.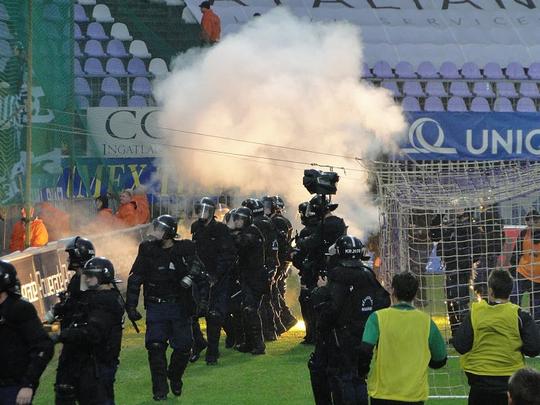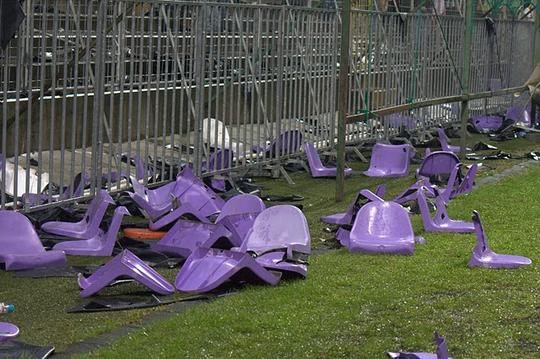 Ujpest fans made great atmosphere. And they had lot of reasons to celebrate! In 90+ minute new goal. 6-0. Unbelievable result for a derby (Ferencvarosh played with 10 players since 39.min, but still...).
When the match ended, celebration of Ujpest players and fans started. Again lots of flares. It's really impressive how much pyro they used on this match. But I noticed that is not dangerous to light a flare in Hungary on the match. People were sitting on fence with flares, no masking... lucky for them.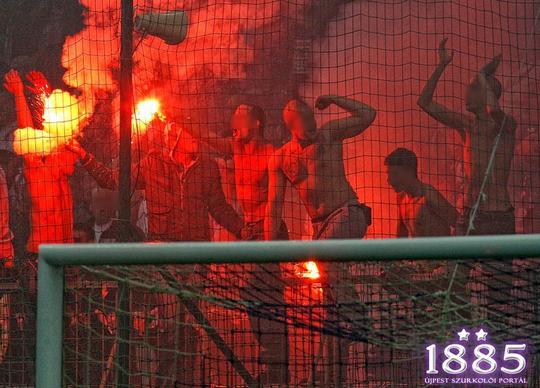 So the Budapest derby was very interesting. Choreographies, pyro, riots and lots of goals. Everything what a derby should have :)
VIDEOS:
Ultras-Tifo Video:
{youtube}hu3LlpqDHE8{/youtube}

Riots:
{youtube}inkNCK39flg{/youtube}

Tifos:
{youtube}cgxFc2EdrUE{/youtube}

Jimmy Jump:
{youtube}5WsYovW4940{/youtube}

Ferencváros corteo:
{youtube}2SrMiwVfs8A{/youtube}