Match report: Zvezda celebrated 68 years.
Match report: Zvezda celebrated 68 years.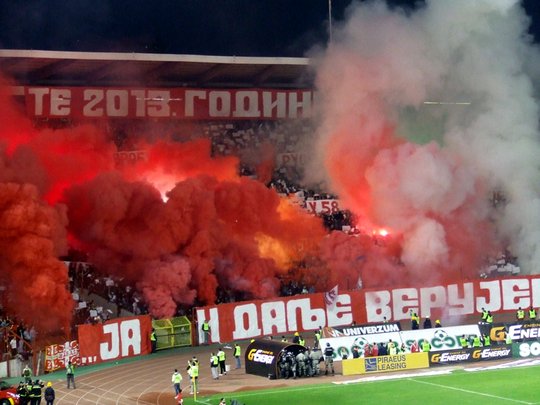 Saturday 9th March Crvena Zvezda (Red Star) played against Novi Pazar at Marakana stadium in Belgrade (Serbia). Delije, supporters of Zvezda, were planning to celebrate their clubs 68th anniversary.
For those who don't know, Novi Pazar is located in southwest of Serbia and their fans are known as the "Muslim supporters", which of course gave this match some extra tension.
Before the match:
Me and my mates got our tickets at stadium early match day. During the day there was nothing special to report in the streets. We thought away fans would been escorted directly to away section and didn't expect anything special to happen before the match.
When we walked up to Marakana about 1 hour before kick off there was plenty of riot police standing in parks and nearby roads. Many home fans had already gathered outside the west stand before they entered the massive stadium.
About 20 minutes before kick off one of Delije's capos used the microphone and started a new song, which later turned out to be a real success. After a while people started to learn it and they repeated it until players entered the pitch.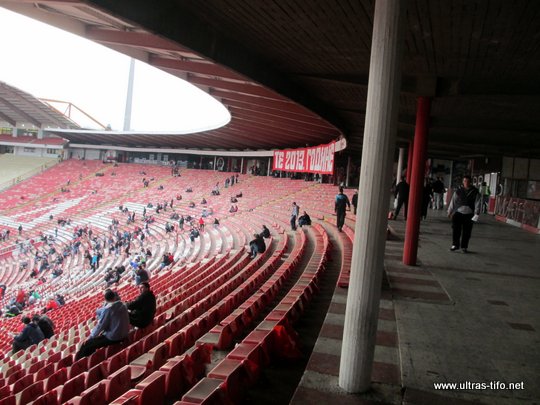 About 1 hour before kick off, picture taken in the North Stand where Delije stand.
We found a place to stand just at the left side of Delije's north stand. There were pieces of plastic on every seat, ready to be used for the choreo. Flyers with info about new song, away trips and Delije were given out.
The match:
When players entered the pitch Delije raised several text banners, slowly one by one.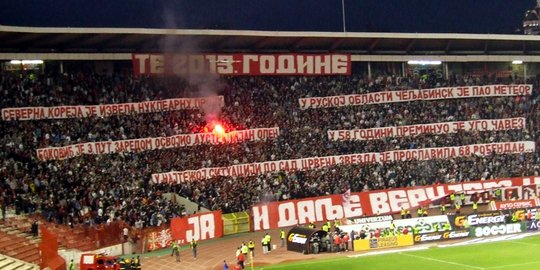 Translation of banners:
During 2013:
North Korea did a nuclear test. Meteor crashed in Russian area ''Celjabinsk''.
Djokovic has won Australian open third time in a row. Hugo Chavez has died in 58th year.
In the most difficult situation so far, Crvena Zvezda has celebrated it's 68th birthday.
AND I STILL BELIVE IN HER !!
Just a minute after all the banners were raised capo told us to hold up our plastic pieces. Short after much pyrotechnics were lighted and some red and white smokebombs were used down at the first row.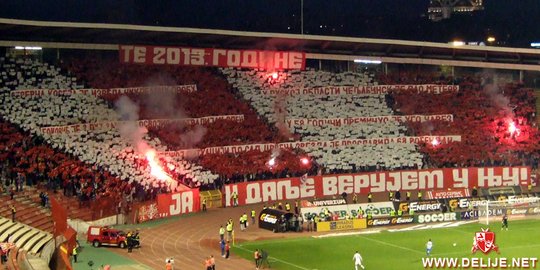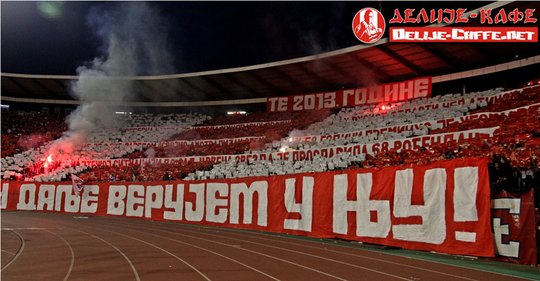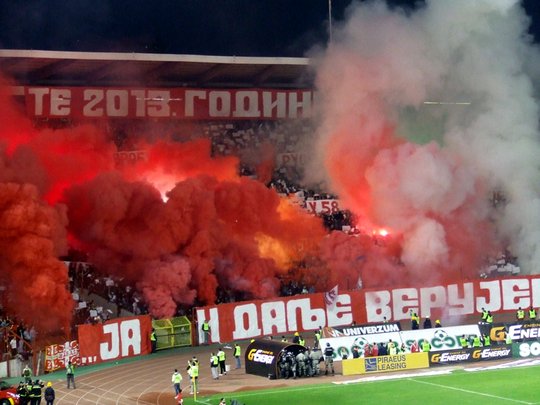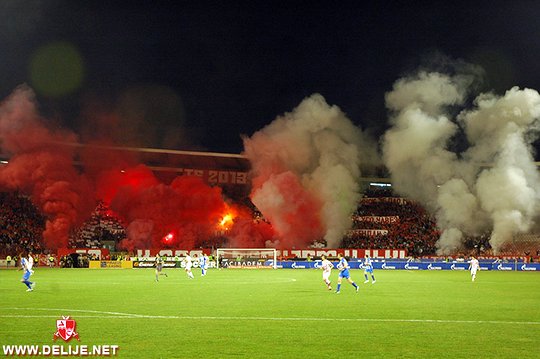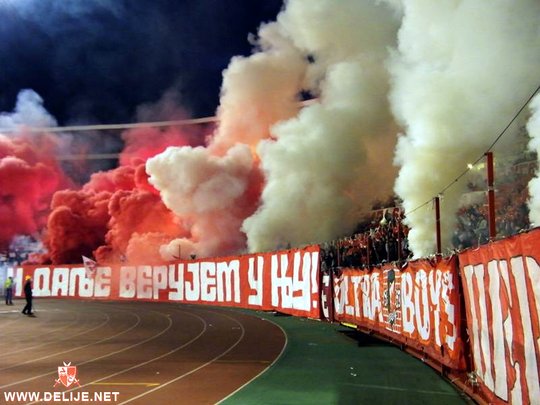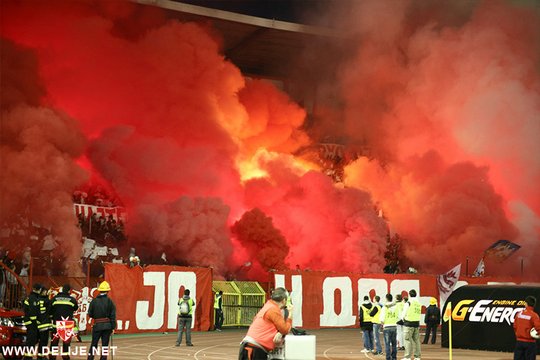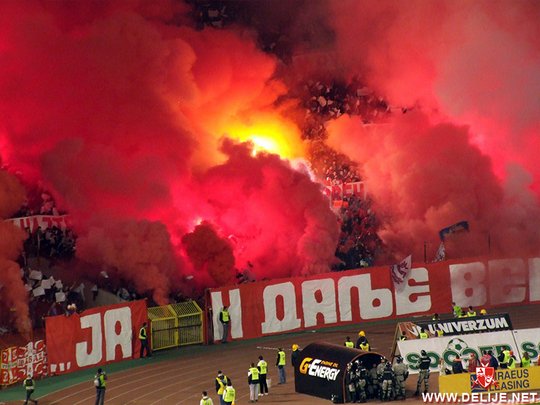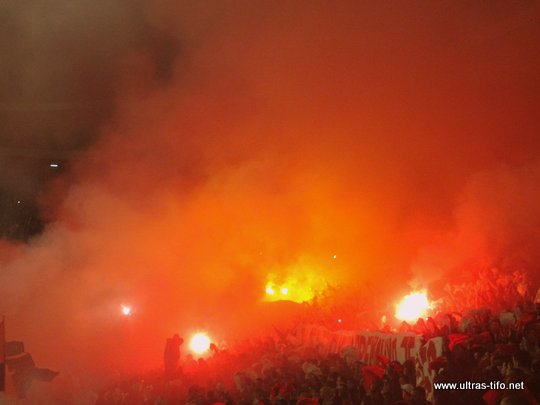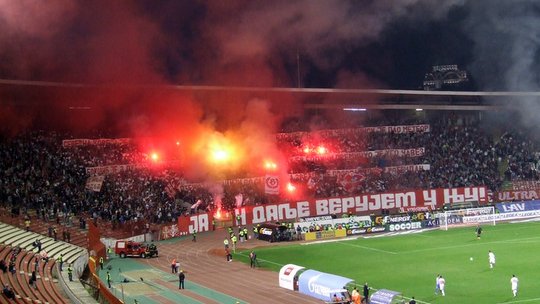 Unfortunately away fans had still not showed up, later we found police didn't allow them to visit Belgrade for safety reasons.
I would guess there would been more insulting songs with away fans inside the stadium, instead Delije focused on supporting their own players. Many great songs during first half, and the new song were repeated many times. Some "bombs", flashing pyro and flares were used now and then.
Around 30 minutes into the match Zvezda scored two quick goals and the whole North Stand just exploded.
During half time Delije collected money to Serbians living in kosovo.
Second half continued very much in the same way as first half. In the 61st minute Zvezda scored again, but this time nearly no pyro lighted from fans. I started to think they saved it for the 68th minute, which they also did.
While singing their new song Delije lighted really much pyrotechnics and my reason for visiting this match became true!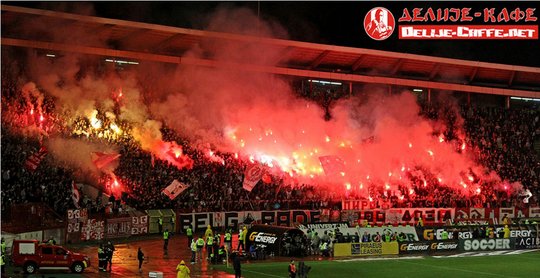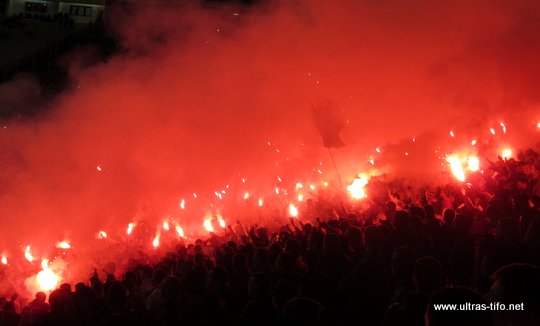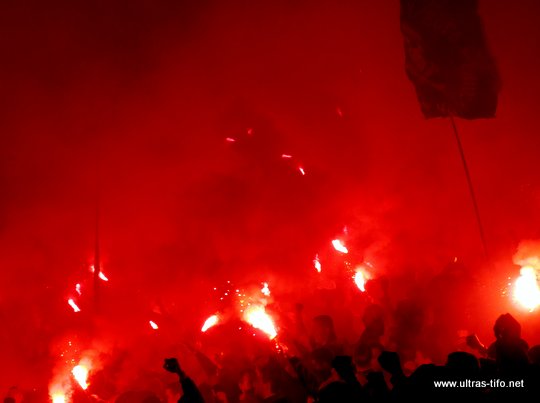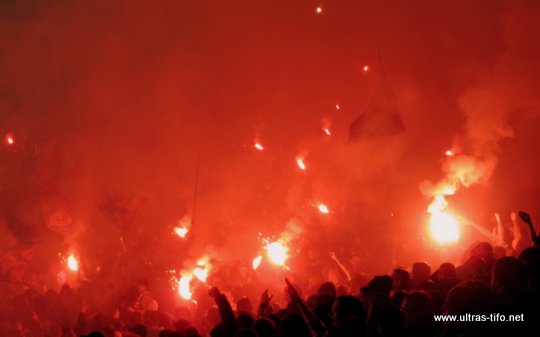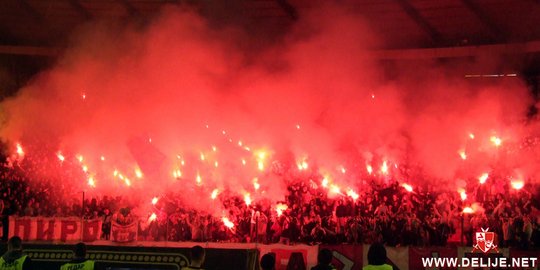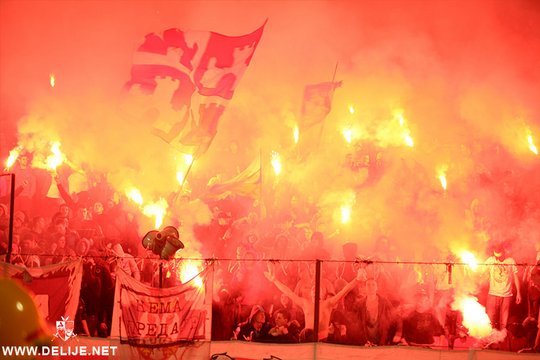 After this show there was just pure madness in the North Stand. Zvezda were leading 3-0 and the new song seemed to work perfect!
The attendance at this match were 14 300, most of them stood in the North stand. Marakana is a huge stadium, therefore it looked very empty. But I can't complain about the support those 14 300 fans made.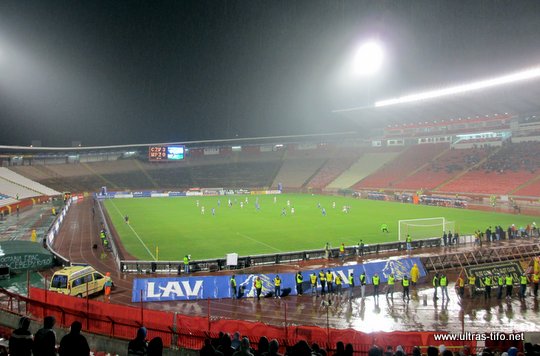 Match finished and after cheering their players people went home.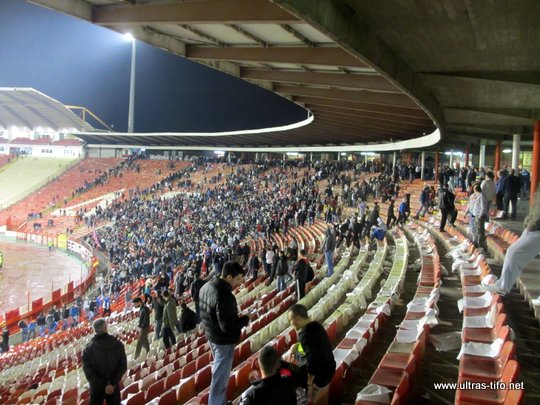 Some of very many riot cops standing in the stadium area. What is special in Marakana is that police and security don't stand inside the north stand at all (after bad experience). Only in front of the stand at the running field and outside the stadium.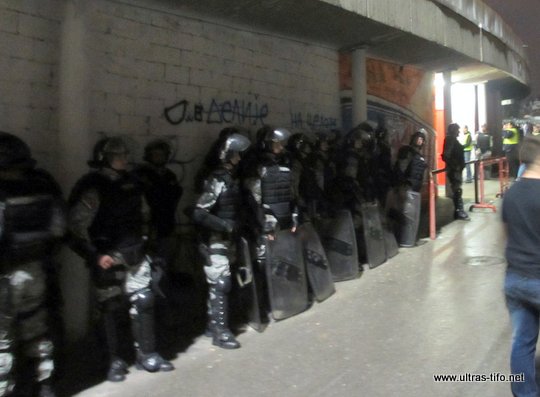 Videos from the match:
The new song:
Source pictures: www.oaza.rs , www.delije-caffe.net , www.ultras-tifo.net
Match report written by Brann.